Nurse Educator Schools in Wyoming
Many registered nurses who have BSN degrees are interested in pursuing their education and becoming nurse educators. Nurse educators in Wyoming are required to have an MSN.
The State of Wyoming recognizes that nurses are busy and generally cannot attend full-time, on-campus programs. To accommodate their busy schedule, the University of Wyoming, Fay W. Whitney School of Nursing, offers several online nursing education programs so that RNs can earn their BSN and those with a BSN can earn their MSN.
There are other schools within Wyoming that also offer online programs allowing registered nurses to advance their education by taking a bridge program to advance from an RN to BSN or BSN to MSN.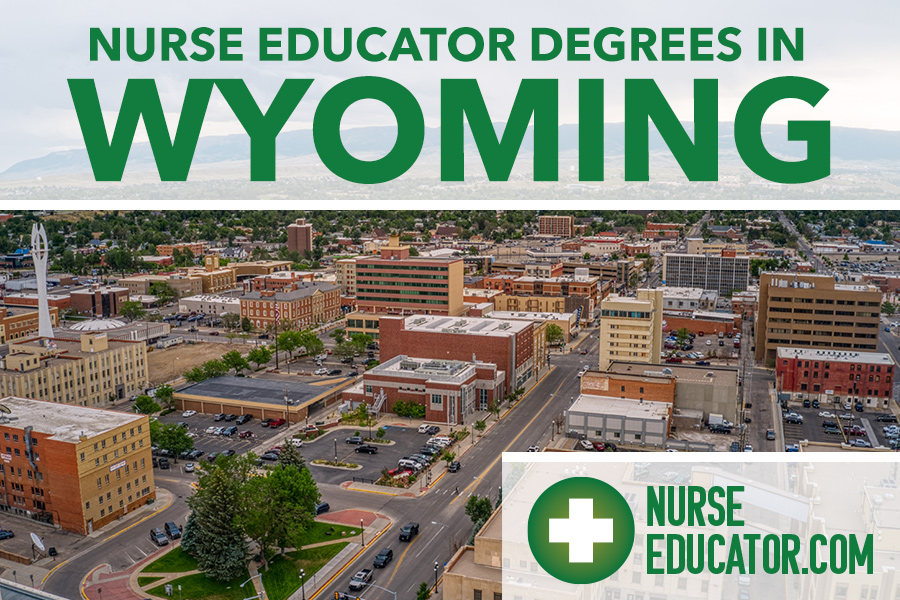 What Are the Online MSN Nursing Education Prerequisites in Wyoming
Several schools in Wyoming offer graduate programs for registered nurses who have a BSN degree and who are seeking an MSN degree to become nurse educators. Their admission requirements are similar to that of the Fay W. Whitney School of Nursing at the University of Wyoming. For admission into that program at the Fay W. Whitney School of Nursing, the applicant must:
Have a BSN from a nationally accredited nursing program or anticipate completing such a program by the first day of class in this program.
Hold a current, active, unencumbered RN license in the state where they plan on doing their practicum (clinical observation). This does not have to be a Wyoming license. The deadline for proving you meet this requirement depends on the term for which you are registering.
Proof of completion of an undergraduate course in statistics with a grade of at least a "C."
A minimum of a 3.0 GPA in undergraduate coursework.
The graduate record examination (GRE) is not required.
Obtain and pay for a criminal background check.
There may be other prerequisites for some of the graduate degree-level courses.
Online RN to MSN Nurse Educator Programs
The admission requirements for the RN to MSN nurse educator program are the same admission requirements for BSN students who are applying to MSN nurse educator programs.
The University of Wyoming, Fay W. Whitney School of Nursing also has bridge programs for RNs who have associate degrees, or who graduated from a diploma program, to earn their BSNs completely online with no campus visit required. For more information, contact the School of Nursing.
For admission, students must hold a current, unencumbered RN license. They must first be admitted to the School of Nursing as a pre-nursing RN/BSN student. Then, they can seek formal admission to the School of Nursing.
Online BSN to MSN Nurse Educator Programs
Typical Admissions Requirements for BSN to MSN nurse educator programs are:
BSN from an accredited university with a minimum GPA of 3.0.
Proof of a course in statistics.
Current unencumbered license as an RN.
At least one year of clinical experience.
Resume and letters of recommendation.
Online Doctorate Nurse Educator Programs: DNP, Ph.D., or Ed.D.
There are three doctorate programs for nursing education–a Doctor of Nursing Practice (DNP), a Doctor of Nursing Philosophy (PhD), and a Doctor of Education (EdD).
The DNP is typically for those who want to become practicing doctors, while the PhD is typically for research. The EdD is for those students who want to go on to teach, but these degrees are less common.
Wyoming is limited in online doctoral programs for nursing education, but you can find a DNP program available online through the University of Wyoming.
The admission requirements for entering a doctorate program in nursing education are similar to the requirements for other nursing education programs but you will be required to hold a higher degree (MSN).
Nurse Educator Licensing and Certification in Wyoming
An active and unencumbered license is required for practice, and for educators in Wyoming. This will be done through the Wyoming State Board of Nursing, and you will be required to pass an exam, and pay a fee. Licenses are subject to renewal, depending on the license type and number of hours performed as a nurse or nurse educator.
Who Hires Nurse Educators in Wyoming?
Nurse educators find employment in many areas. For example:
Academic settings where they educate prospective registered nurses on various topics. This may be in a community college, university, or four-year college. The nurse educator may design a curriculum, give classroom lectures, and assess the students' learning through test results and observing and teaching them in a clinical setting.
Hospital settings where they support RNs in their daily tasks. They are often in charge of making sure in-service education requirements are met. They may also be in charge of providing continuing education classes and seminars to staff nurses.
Government and community health organizations.
Home-health care organizations.
Distance learning programs.
Long-term care facilities.
Nurse educators are in demand, particularly in nursing school settings where there is such a shortage of nurse educators, schools are limiting the number of students they can accept to the program.
List of Nurse Educator Degree Programs in Wyoming
Ready to find an online or campus-based nurse educator degree program in Wyoming? Explore our listings to find the perfect program that matches your academic goals and career aspirations.
Laramie, WY
1000 E. University Ave
Laramie
,
WY
82071
(307) 766-1121
Are we missing your school's program or need to update information listed? Please contact us so we can make the necessary changes.