Online MSN Nurse Educator Programs
If you are considering a career as a nurse educator, a Master's of Science in Nursing (MSN) in Nursing Education provides the credentials you need to begin working as quickly as possible. Another option is to enroll in a bridge program if you already have your credentials as an RN with either a bachelor's or associate degree. Online MSN Nurse Educator programs are widely available, making it much more convenient to complete from the comfort of home.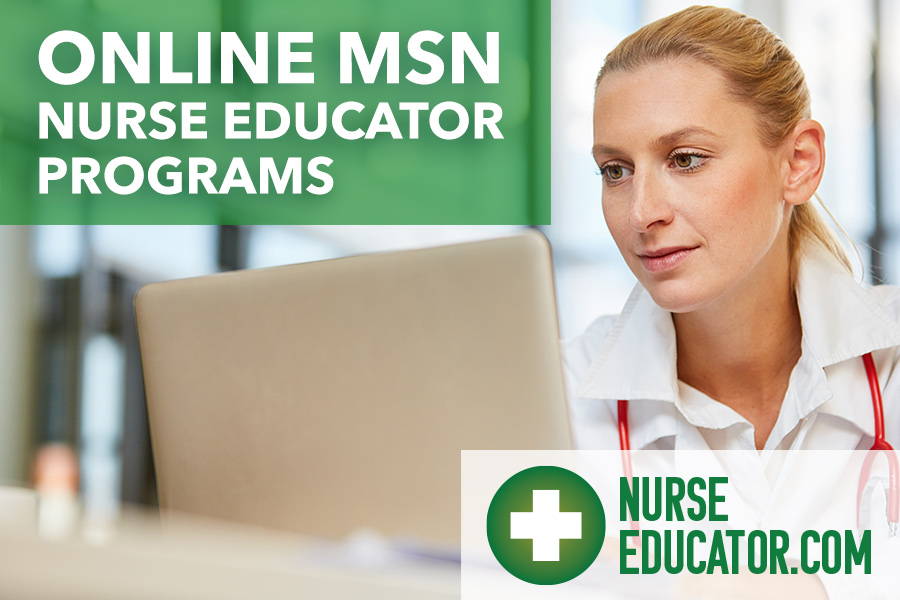 What Is an MSN Nurse Educator Program?
An MSN (Master of Science in Nursing) Nurse Educator program is a graduate-level program designed to prepare registered nurses (RNs) for a career in nursing education. This program provides nurses with advanced knowledge and skills in teaching, curriculum development, assessment, and leadership. Graduates of an MSN Nurse Educator program are prepared to teach nursing students in academic and clinical settings, develop and evaluate nursing education programs, and assume leadership roles in nursing education.
There are several reasons why someone might choose an MSN Nurse Educator program over a doctorate Nurse Educator degree, such as a DNP, Ph.D., or Ed.D. For example, an MSN program typically requires less time and money to complete than a doctoral program. Additionally, an MSN degree may be sufficient for some nursing education roles, such as clinical instructor or staff development educator, while a doctoral degree may be required for more advanced roles, such as program director or academic dean.
2023 - Best Master's Degree in Nursing Education Programs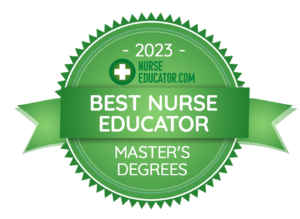 NurseEducator.com's online Master's Degree in Nursing Education rankings are based on an extensive methodology. Factors such as graduation rates, affordability, the competitiveness of the institution, the range of programs offered, and the experience of faculty are all taken into account. By combining these metrics, the rankings are able to provide a comprehensive assessment of each school's quality and potential. To see the complete methodology used to create these rankings, visit the methodology page.
MSN Nurse Educator Curriculum & Tuition
The curriculum of an MSN Nurse Educator program typically includes courses in nursing education theory and practice, curriculum development and evaluation, assessment and evaluation, leadership and management, and instructional strategies. In addition, students may have opportunities for clinical practicum experiences in nursing education settings. Some programs may also offer specialized courses or tracks in areas such as online education or simulation-based education.
The tuition and cost ranges for an MSN Nurse Educator program can vary widely depending on the institution and location. According to the National League for Nursing, the average tuition for an MSN program in 2020-2021 was approximately $29,000 per year for in-state residents and $40,000 per year for out-of-state residents. However, some programs may be more or less expensive than this average, and there may be additional costs for books, fees, and clinical practicum experiences.
Do Online MSN Nurse Educator Programs Exist?
Yes, online MSN (Master of Science in Nursing) Nurse Educator programs do exist, and they have become increasingly popular in recent years. These programs offer the opportunity for nurses to advance their education and career while still maintaining their work and personal commitments. One example of an online MSN Nurse Educator program is offered by Walden University, which is accredited by the Commission on Collegiate Nursing Education (CCNE).
The benefits of an online MSN Nurse Educator program include flexibility, convenience, and accessibility. With online learning, students can study and complete coursework at their own pace and on their own schedule, which allows them to balance their work, family, and other commitments. Online learning also provides access to a wider range of resources and support, such as virtual libraries and online tutoring services. Moreover, many online MSN Nurse Educator programs allow students to complete their clinical practicum requirements at a location near their homes or workplaces.
However, online MSN Nurse Educator programs differ from campus-based options in some ways. For example, online programs may require students to have strong self-discipline and time-management skills, as they are responsible for their own learning and progress. Additionally, online programs may have limited opportunities for in-person interaction and networking with faculty and peers, although some online programs may offer synchronous online sessions where students can engage in real-time discussions and activities with classmates and instructors.
An online MSN Nurse Educator program is a viable option for nurses who want to pursue advanced education in nursing education while still managing their personal and professional responsibilities. These programs offer several benefits, including flexibility and accessibility, but they also require students to be self-motivated and proactive in their learning. Overall, whether to choose an online or campus-based program depends on individual needs and preferences.
MSN Nurse Educator Accelerated and Bridge Programs
The American Association of Colleges of Nursing states that the accelerated nursing program provides an opportunity for people who already have a degree in a non-nursing related field to earn their MSN nurse educator degree in approximately 11 to 18 months. Completing a master's degree program would normally take about three years. Accelerated programs run consecutively without the same long breaks between semesters common with typical degree programs.
If you already have your RN credential at either the bachelor's or associate degree level, an RN to MSN or RN to ADN would better meet your needs. Schools typically refer to these education options as bridge programs.
RN to MSN Nurse Educator Programs
Completing a bridge program when you already have an associate degree takes much less time than it does to earn the original degree or enroll in a straight bachelor's degree program. Schools offer bridge programs either fully online or as a hybrid program to help busy adults balance their other responsibilities.
When researching schools offering this degree option, you will see it described as either an RN to MSN bridge program or an ADN to MSN bridge program. Here are the general requirements you must meet before you can register:
ADN from an accredited institution
Grade point average of at least 3.0, although some schools may be higher.
Letters of recommendation, which are typically one to three, depending on the school. The letters should be from a previous instructor, academic advisor, a supervisor at work, or another person who has first-hand knowledge of your education and work habits.
Resume
Transcript from the school where you received your ADN
Unencumbered RN license
You should expect to spend two to three years completing your RN to MSN nurse educator program. However, the timeline can vary on either end, depending on the requirements of the college or university where you enroll. Requirements to complete 10 career-related courses are typical, although the credits assigned to the courses vary by institution.
BSN to MSN Nurse Educator Programs
WesternGovernors University (WGU) is an example of a school that offers online BSN to MSN nurse educator degree options. The average time to complete a program at this school is 24 months, and the average tuition is $8,347 per year. The program consists of eight core courses. Here are some examples:
Advanced Evidenced-Based Innovations in Nursing
Advanced Health Assessments for Patient Populations
Essentials of Advanced Nursing
Informatics in Nursing
Management and Leadership in Healthcare
After finishing the core curriculum, students at this school do a formal presentation to demonstrate their mastery of the topics. This requirement is common in other colleges and universities as well.
Accelerated Nurse Educator Program Options
Several schools offer Master's Entry to Nursing Practice (MENP) credentials for students who have a bachelor's degree in any field. You may also see programs abbreviated as MEPN, which stands for Master's Entry Program in Nursing. The school must be accredited, and the typical time from enrollment to completion is two years. Millikin University in Illinois is one example of a school that offers an MENP program with nurse education coursework.
While an accelerated nurse educator degree program allows you to achieve your career goals faster, completing it is challenging and academically rigorous. As long as you are prepared for that reality and the fact that you need to complete many practice hours that involve long days, you should do just fine.
Nurse Educator Degree Type Comparison
| | | | |
| --- | --- | --- | --- |
| Degree Type | Description | Length | Typical Career Outcomes |
| MSN Nurse Educator | A Master of Science in Nursing (MSN) with a specialization in Nurse Education. | 2-3 years | Nurse educator positions in academic institutions, hospitals, and other healthcare settings. May also pursue leadership positions in nursing education. |
| Post-Master's Certificate Nurse Educator | A post-master's certificate program focused on nurse education. | 1 year or less | Designed for nurses with an MSN or DNP who want to specialize in nurse education. Can also be taken as a standalone certificate for those who already have a graduate degree in nursing. |
| DNP Nurse Educator | A Doctor of Nursing Practice (DNP) degree with a specialization in Nurse Education. | 3-4 years | Advanced nurse educator positions in academic institutions and healthcare organizations. May also pursue leadership roles in nursing education or clinical practice. |
| Ph.D. Nurse Educator | A Doctor of Philosophy (Ph.D.) in Nursing with a focus on nursing education research. | 4-5 years | Tenure-track academic positions, research roles in healthcare organizations, and leadership positions in nursing education. |
| Ed.D. Nurse Educator | A Doctor of Education (Ed.D.) with a specialization in Nursing Education. | 3-4 years | Designed for nurse educators who want to pursue leadership roles in academic institutions or healthcare organizations. May also be useful for those who want to focus on nursing education policy and advocacy. |
Note: Program lengths may vary depending on the specific institution and program. These are just general estimates.
List of MSN Nurse Educator Degree Programs
In search of an online or campus-based MSN Nurse Educator program near you? Explore our state-by-state listings below.
Jump to Your State Listings
Alabama
Alaska
Arizona
Arkansas
California
Colorado
Connecticut
Florida
Georgia
Idaho
Illinois
Indiana
Iowa
Kansas
Kentucky
Louisiana
Maine
Maryland
Massachusetts
Michigan
Minnesota
Mississippi
Missouri
Nebraska
Nevada
New Hampshire
New Jersey
New Mexico
New York
North Carolina
North Dakota
Ohio
Oklahoma
Pennsylvania
Rhode Island
South Carolina
South Dakota
Tennessee
Texas
Utah
Vermont
Virginia
Washington
Washington, DC
West Virginia
Wisconsin
Wyoming
Are we missing your school's program or need to update information listed? Please contact us so we can make the necessary changes.