Nurse Educator Schools in Florida
Are you working as a practicing nurse in Florida and considering stepping up to a career in education? It's a rewarding career in which you can train new nursing students or long-term professionals. If this sounds appealing, you should know about the mandatory steps and other choices to help you achieve this career in the state of Florida.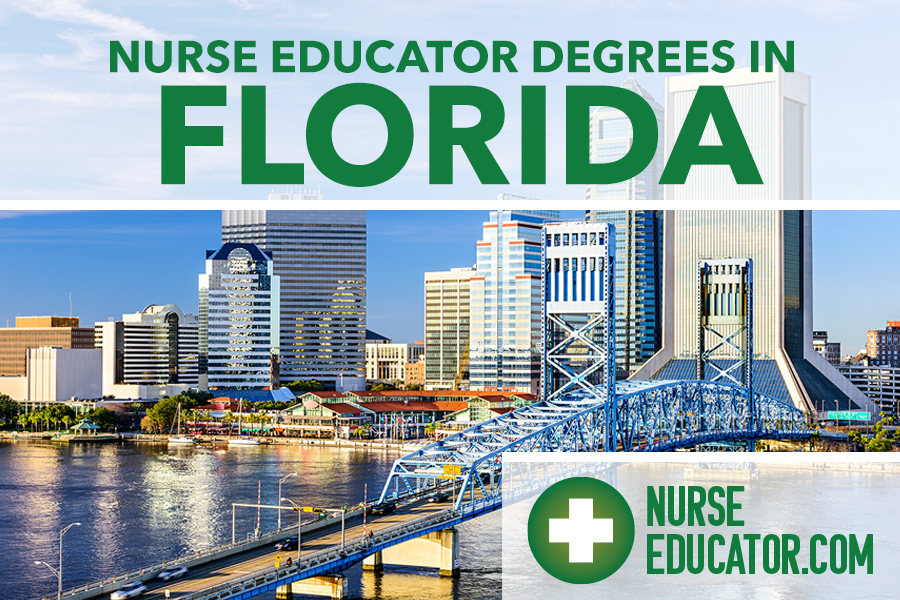 What Are the Online Nursing Education Prerequisites in Florida?
To work as a nurse educator in the state of Florida, it is first mandatory that you have an undergraduate and graduate degree along with an RN license. The undergraduate program can be ADN or BSN. Your graduate degree must be a master's at a minimum – either an MSN with an education track or a dedicated MSN in Nursing Education. Many nurse educators also go on to pursue a doctorate degree in nursing education, which comes in three types: the DNP, the Ph.D., or the Ed.D.
Online RN to MSN Nurse Educator Programs
Those with years of experience as practice nurses will find several RN to MSN opportunities in Florida and some online availability. You will study both preventive care and nursing, theory and practice, statistics, curriculum development and assessment, and health promotion. Eligibility requirements are typically:
A minimum cumulative GPA. This can be anything between 2.8 and 3.0 on the 4.0 scale
Send transcripts as proof
Minimum grades may apply to specific undergraduate courses such as statistics or health assessment
RN license (unencumbered)
Schools may ask to see your NCLEX-RN score
CPR certification
Online Doctorate Nurse Educator Programs: DNP, Ph.D., Ed.D.
Florida has several universities that offer online Doctorate Nurse Educator programs, including the Doctor of Nursing Practice (DNP), Doctor of Philosophy (Ph.D.), and Doctor of Education (Ed.D.). These programs are designed to provide advanced knowledge and skills in nursing education, leadership, research, and evidence-based practice.
Here are some typical admissions requirements for online Doctorate Nurse Educator programs in Florida:
Master's degree in nursing or related field
Current, valid RN license
Minimum GPA requirement (usually 3.0 or higher)
Resume/CV
Personal statement or essay
Official transcripts from all universities attended
Three letters of recommendation
Interview with the admissions committee
Writing sample or research paper
Evidence of clinical experience or research experience may also be required for some programs.
Prospective students are encouraged to review the specific admission requirements for each program they are interested in and reach out to the program's admissions office with any questions or concerns. Meeting the minimum requirements does not guarantee acceptance into the program, as competition for admission can be high. It's important to carefully review the admission requirements, prepare a strong application, and demonstrate a passion for nursing education to increase the chances of being accepted into a program.
Nurse Educator Licensing and Certification in Florida
An RN license is mandatory for nursing educators. Even if you have no intention of practicing, that license must be maintained in line with the requirements of being a practice nurse. A master's degree or doctorate is then required prior to practice and certification.
Ideally, you should also have a Certificate of Nursing Education. The CNE is optional to operate as a nurse educator. However, it is often strongly preferred.
CNE (standard) is for those working in academic education
CNEcl is for those teaching professional learners. You need a minimum of three years minimum experience
CNEn certification is for newly qualified. To be eligible, you need under three years of experience
RN license requirements are mandatory for ongoing eligibility. Further, the CNE also requires minimum eligibility to be maintained.
RN licensing in Florida costs $110 for the application and a further $200 for the exam. License by endorsement is also $110. The CNE is the same cost throughout the US: $400 for NLN members and $500 for non-members.
Who Hires Nurse Educators in Florida?
These are the typical ways in which you might apply your Nursing Education MSN to a career:
Academic research and teaching: in our colleges and universities educating the next generation of nurses and other nursing professionals in a formal capacity
Teaching professional nurses: working in hospitals and clinics providing mandatory ongoing education and other important training.
Education providers: while you might train nurses, you could be employed to provide any medical training – for example in technology or procedures.
Charities: any of the above roles in a not-for-profit organization, or lobbying and public health advocacy.
List of Nurse Educator Degree Programs in Florida
Ready to find an online or campus-based nurse educator degree program in Florida? Explore our listings to find the perfect program that matches your academic goals and career aspirations.
Boca Raton, FL
Fort Lauderdale, FL
Fort Myers, FL
Lake Mary, FL
Lakeland, FL
Miami, FL
Orlando, FL
Pensacola, FL
Tampa, FL
Are we missing your school's program or need to update information listed? Please contact us so we can make the necessary changes.