Nurse Educator Licensing and Certification
A nurse educator is a registered nurse, but with a focus on teaching nursing to those who are aspiring to the profession. Typically, they work in universities, community colleges, and other educational institutions. They can also work in medical facilities and hospitals that have nurse training programs. To officially become a nurse educator, an RN must be appropriately licensed and certified.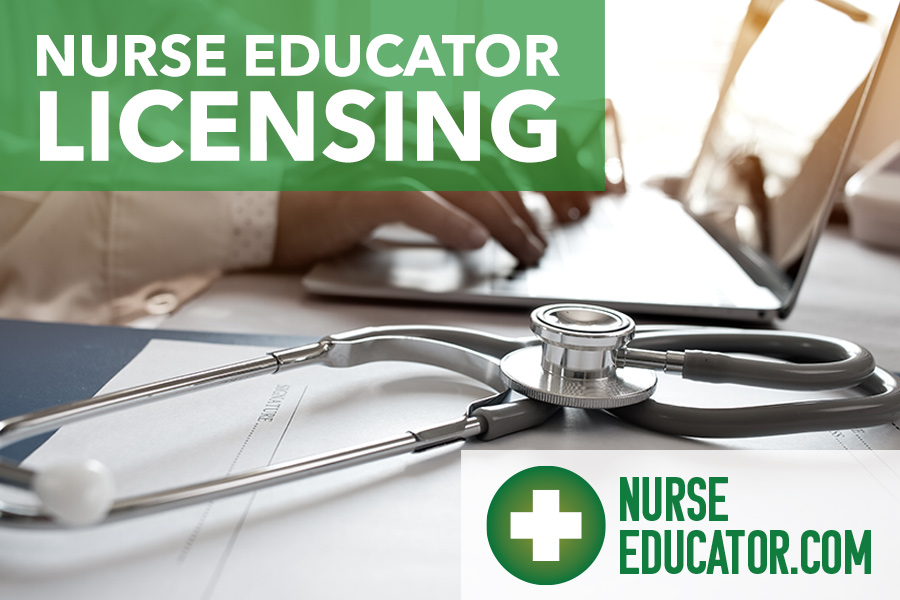 Becoming Licensed As a Nurse Educator
Specific requirements vary by state; however, a typical pattern is frequently followed to become licensed and certified as a nurse educator.
The first step is to become a licensed registered nurse (RN). This typically requires getting a bachelor's degree in nursing (BSN) and passing the NCLEX-RN licensing exam.
Then, you'll need to upgrade your degree to a master's in nursing (MSN), ideally with a nurse educator concentration. This will require doing both coursework and a direct patient care practicum. Each university has slightly different ways of providing both aspects of these programs. Still, all must fit within the American Association of Colleges of Nursing framework in the Essentials of Master's Education in Nursing. Programs tend to run between 33 and 39 credit hours.
Various courses are available, but your education will include specific topics since a framework must be met. These include quality improvement and safety, organizational and systems leadership, informatics and healthcare technologies, translating and integrating scholarship into practice, and more.
If you are an RN with a general MSN degree and wish to pursue a nurse educator credential, a post-master's certificate in nursing education can be ideal. Students can also pursue a doctoral degree, such as a DNP, a Ph.D., or an Ed.D. in a nurse educator concentration.
Once you have completed your nurse educator program, you must complete the process for certification. Several types of nurse educator certifications are available, depending on what kind of nursing education you intend to provide.
Nurse Educator Certification
The National League for Nursing (NLN) examines candidates for Certified Nurse Educator (CNE) credentialing. This certification originated to help cement nursing education as its profession. It provides a way for those in the profession to demonstrate their expertise.
While there are many specifics about how to gain certification, the NLN has made it easy to find them all by publishing a downloadable handbook (PDF). This handbook includes application deadlines, test dates, test formats, tips on preparing for the exam, and much more.
The CNE exam can be taken online and in person, unlike licensing examinations. Renewals are done online.
Taking the test online starts with setting up an account. Everything to do with certification then occurs through the portal known as Certelligence. Printing out your certificate or ordering an Honor Cord online is even possible. Honor Cords go to those who pass their certification exams, and the colors vary depending on which type of exam was passed.
Three types of certifications are currently available: the CNEn, the CNEcl, and the NLN Certified Nurse Educator. Check with the certifying agency for the latest details on these options. You will be one step closer to becoming a nurse educator.
| Certification | CNEn (Certified Nurse Educator – Academic) | CNEcl (Certified Nurse Educator – Clinical) | NLN Certified Nurse Educator |
| --- | --- | --- | --- |
| Organization | National League for Nursing (NLN) | National League for Nursing (NLN) | National League for Nursing (NLN) |
| Target Audience | Nurses in academic settings | Nurses in clinical settings | Nurses in academic or clinical settings |
| Eligibility Requirements | Must hold a current, active RN license and a Master's or Doctoral degree in Nursing or a related field, have completed two years of full-time nursing experience, and have completed at least 9 credit hours in nursing education courses | Must hold a current, active RN license and a Master's or Doctoral degree in Nursing or a related field, have completed two years of full-time nursing experience, and have completed at least nine credit hours in nursing education courses | Must earn 45 continuing education hours in nursing education or related fields and submit evidence of teaching effectiveness every five years |
| Exam Format | Computer-based test | Computer-based test | Computer-based test |
| Exam Content | Focuses on the role of the nurse educator in academic settings, including curriculum development, evaluation, and teaching strategies | Focuses on the role of the nurse educator in clinical settings, including patient education, staff development, and preceptorship | Focuses on the role of the nurse educator in both academic and clinical settings, including curriculum development, teaching and learning strategies, and evaluation |
| Recertification Requirements | Must earn 75 continuing education hours in nursing education or related fields and submit evidence of teaching effectiveness every 5 years | Must earn 75 continuing education hours in nursing education or related fields and submit evidence of teaching effectiveness every five years | Must earn 75 continuing education hours in nursing education or related fields and submit evidence of teaching effectiveness every five years |