Nurse Educator Salary: What to Expect
One of the key considerations when choosing a career is salary. While this usually shouldn't be the only concern, it definitely matters. After all, salary is the prime determinant of whether or not you can afford your desired lifestyle.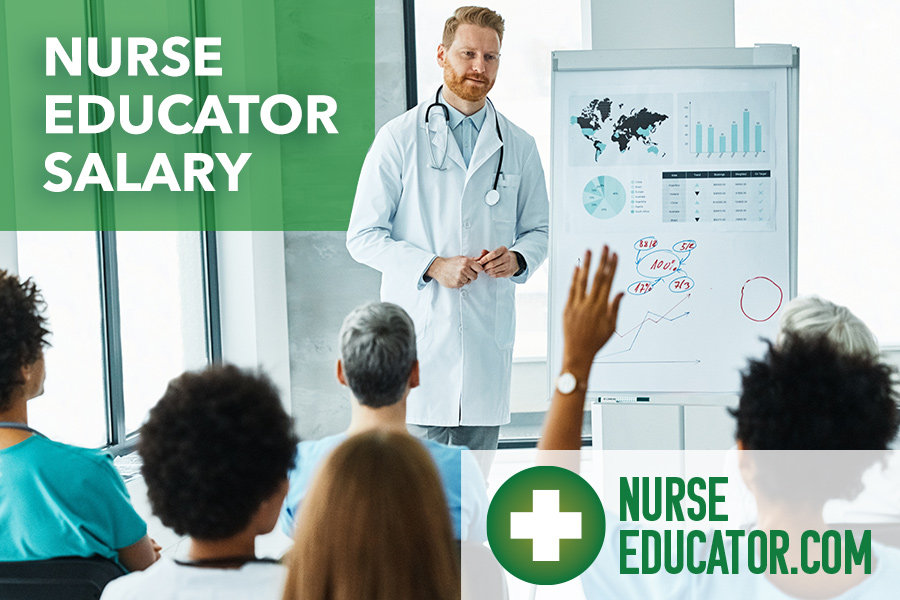 Salary Comparison Tool
This tool will allow you to easily search and compare the average salaries of nurses for many cities and locations across the U.S. You can search by city and state. Salary data is provided through the BLS.
Select Career Type
Select State
Select City
Nurse Educator Salary by Degree Type
Sources like the Bureau of Labor Statistics do not break out expected nurse educator salaries by degree type. The BLS considers this to require "postsecondary" education, while Payscale.com assumes you have a master's degree.
With that in mind, the projected wages are pretty high, with the BLS giving $77,000 as the median wage. The lowest 10% make almost $48,000, while the highest 10% make nearly $126,000.
Meanwhile, Payscale.com is a bit more optimistic for the average nurse educator, putting the median wage at $81,000. Yet, the site considers $110,000 to be on the high side. This site also goes into more detail on other factors that go into determining pay, such as those described below.
Despite the lack of specific details, it's almost certain that you'll get a higher salary – possibly much higher – with a doctorate.
Some employers, especially universities, even require a doctorate to get a job there. In that case, you can expect most of them will make it worthwhile. However, the size and endowment of the university will still play a significant role in salary potential.
What Other Factors Determine Nurse Educator Salaries?
Experience level is a huge determining factor in nurse educator salaries. According to Payscale.com, someone with just one year of experience will make an average of $71,000 annually, which is still suitable for anyone just starting at anything. Meanwhile, someone with 20+ years of experience is projected to be able to make $89,000 per year.
Geographic location is another critical factor when it comes to pay. As local demands rise and fall, so do the salaries that can be attained. The demand level is constantly changing, so it is unlikely that one city will always hold the lead in this category. Moving to a new area to improve salary possibilities is not unheard of.
The type of employer is another factor involved, but the specific company is even more critical. For example, among hospitals, Jersey City Medical Center is reported to pay over $95,000 per year, while Carter Healthcare pays only about $55,000. Therefore, if your goal is to maximize salary potential, looking at what specific companies pay is more important than confining your search to a particular facility type.
Any specialties or certifications will also influence your salary, assuming the one(s) you hold are in higher demand than general nurse educators. In some cases, you might be able to make substantially more than you would with only a plain nurse educator credential.
Nurse Educator Salary Table by State and Metro Area
To learn more about nurse educator salaries in your local region, click on your state below. We have compiled the latest salary data in the major metro areas of each state.
Alabama
| Metro Area | Total Employed | Annual Salary Range | Hourly Pay Range |
| --- | --- | --- | --- |
| Alabama | 1220 | $63,690 - $95,350 | - |
| Birmingham-Hoover, AL | 240 | $75,360 - $127,290 | - |
| Mobile, AL | 190 | $83,100 - $83,100 | - |
| Huntsville, AL | 110 | $64,620 - $76,320 | - |
| Tuscaloosa, AL | 110 | $83,620 - $103,960 | - |
| Auburn-Opelika, AL | 50 | $78,830 - $103,320 | - |
| Montgomery, AL | 50 | $61,780 - $70,270 | - |
Alaska
| Metro Area | Total Employed | Annual Salary Range | Hourly Pay Range |
| --- | --- | --- | --- |
| Alaska | 120 | $50,360 - $94,310 | - |
| Anchorage, AK | 60 | $50,360 - $94,220 | - |
Arizona
| Metro Area | Total Employed | Annual Salary Range | Hourly Pay Range |
| --- | --- | --- | --- |
| Arizona | 1540 | $65,460 - $94,630 | - |
| Phoenix-Mesa-Scottsdale, AZ | 1100 | $65,460 - $77,770 | - |
| Tucson, AZ | 270 | $59,450 - $99,250 | - |
Arkansas
| Metro Area | Total Employed | Annual Salary Range | Hourly Pay Range |
| --- | --- | --- | --- |
| Arkansas | 660 | $47,940 - $73,160 | - |
| Little Rock-North Little Rock-Conway, AR | 160 | $59,680 - $78,490 | - |
| Fort Smith, AR-OK | 40 | $64,750 - $74,920 | - |
California
| Metro Area | Total Employed | Annual Salary Range | Hourly Pay Range |
| --- | --- | --- | --- |
| California | 4790 | $81,030 - $120,210 | - |
| Los Angeles-Long Beach-Anaheim, CA | 2220 | $82,920 - $120,130 | - |
| San Francisco-Oakland-Hayward, CA | 560 | $73,130 - $132,320 | - |
| Riverside-San Bernardino-Ontario, CA | 470 | $104,470 - $117,090 | - |
| San Diego-Carlsbad, CA | 440 | $66,470 - $119,390 | - |
| Fresno, CA | 90 | $85,080 - $104,700 | - |
| Visalia-Porterville, CA | 60 | $99,690 - $132,230 | - |
| Oxnard-Thousand Oaks-Ventura, CA | 50 | $77,470 - $100,420 | - |
| Bakersfield, CA | 30 | $76,710 - $125,350 | - |
Colorado
| Metro Area | Total Employed | Annual Salary Range | Hourly Pay Range |
| --- | --- | --- | --- |
| Colorado | 1120 | $59,250 - $99,020 | - |
| Denver-Aurora-Lakewood, CO | 570 | $62,940 - $99,020 | - |
| Colorado Springs, CO | 160 | $39,760 - $81,920 | - |
| Pueblo, CO | 80 | $47,030 - $95,350 | - |
Connecticut
| Metro Area | Total Employed | Annual Salary Range | Hourly Pay Range |
| --- | --- | --- | --- |
| Connecticut | 990 | $77,010 - $107,100 | - |
| Hartford-West Hartford-East Hartford, CT | 480 | $77,010 - $99,240 | - |
| New Haven, CT | 200 | $82,890 - $181,010 | - |
| Bridgeport-Stamford-Norwalk, CT | 170 | $78,870 - $97,090 | - |
| Norwich-New London-Westerly, CT-RI | 50 | - | - |
Delaware
| Metro Area | Total Employed | Annual Salary Range | Hourly Pay Range |
| --- | --- | --- | --- |
| Delaware | 280 | $59,610 - $105,370 | - |
| Dover, DE | 70 | $85,190 - $105,950 | - |
District of Columbia
| Metro Area | Total Employed | Annual Salary Range | Hourly Pay Range |
| --- | --- | --- | --- |
| District of Columbia | 180 | $79,450 - $124,920 | - |
| Washington-Arlington-Alexandria, DC-VA-MD-WV | 1010 | $78,880 - $101,510 | - |
Florida
| Metro Area | Total Employed | Annual Salary Range | Hourly Pay Range |
| --- | --- | --- | --- |
| Florida | 4540 | $62,010 - $94,770 | - |
| Miami-Fort Lauderdale-West Palm Beach, FL | 1360 | $63,240 - $98,090 | - |
| Tampa-St. Petersburg-Clearwater, FL | 610 | $62,860 - $97,000 | - |
| Orlando-Kissimmee-Sanford, FL | 510 | $61,690 - $95,690 | - |
| Jacksonville, FL | 300 | $61,000 - $85,010 | - |
| Cape Coral-Fort Myers, FL | 130 | $62,780 - $96,180 | - |
| Deltona-Daytona Beach-Ormond Beach, FL | 80 | $58,620 - $78,250 | - |
| Lakeland-Winter Haven, FL | 80 | $60,430 - $77,230 | - |
Georgia
| Metro Area | Total Employed | Annual Salary Range | Hourly Pay Range |
| --- | --- | --- | --- |
| Georgia | 1510 | $53,480 - $79,800 | - |
| Atlanta-Sandy Springs-Roswell, GA | 620 | $53,480 - $79,890 | - |
| Augusta-Richmond County, GA-SC | 190 | $18,760 - $84,220 | - |
| Savannah, GA | 70 | $63,890 - $79,800 | - |
| Athens-Clarke County, GA | 50 | $59,790 - $74,360 | - |
| Rome, GA | 40 | $58,960 - $74,840 | - |
Hawaii
| Metro Area | Total Employed | Annual Salary Range | Hourly Pay Range |
| --- | --- | --- | --- |
| Hawaii | 160 | $22,610 - $100,070 | - |
| Urban Honolulu, HI | 130 | $64,500 - $100,090 | - |
Idaho
| Metro Area | Total Employed | Annual Salary Range | Hourly Pay Range |
| --- | --- | --- | --- |
| Idaho | 340 | $60,120 - $75,850 | - |
| Boise City, ID | 220 | $60,120 - $75,850 | - |
Illinois
| Metro Area | Total Employed | Annual Salary Range | Hourly Pay Range |
| --- | --- | --- | --- |
| Illinois | 2900 | $62,580 - $81,680 | - |
| Chicago-Naperville-Elgin, IL-IN-WI | 2200 | $64,410 - $83,750 | - |
| Peoria, IL | 170 | $71,880 - $97,240 | - |
| Bloomington, IL | 70 | $46,960 - $99,790 | - |
Indiana
| Metro Area | Total Employed | Annual Salary Range | Hourly Pay Range |
| --- | --- | --- | --- |
| Indiana | 1380 | $61,250 - $105,210 | - |
| Indianapolis-Carmel-Anderson, IN | 490 | $62,440 - $122,660 | - |
| Lafayette-West Lafayette, IN | 100 | $107,640 - $142,570 | - |
| Terre Haute, IN | 100 | $53,060 - $104,060 | - |
| South Bend-Mishawaka, IN-MI | 40 | $58,880 - $80,860 | - |
Iowa
| Metro Area | Total Employed | Annual Salary Range | Hourly Pay Range |
| --- | --- | --- | --- |
| Iowa | 720 | $58,480 - $88,900 | - |
| Sioux City, IA-NE-SD | 100 | $67,550 - $88,900 | - |
| Cedar Rapids, IA | 90 | $58,960 - $78,060 | - |
| Davenport-Moline-Rock Island, IA-IL | 90 | $58,280 - $69,450 | - |
| Des Moines-West Des Moines, IA | 60 | $51,310 - $73,340 | - |
| Waterloo-Cedar Falls, IA | 30 | $58,250 - $77,730 | - |
Kansas
| Metro Area | Total Employed | Annual Salary Range | Hourly Pay Range |
| --- | --- | --- | --- |
| Kansas | 950 | $41,030 - $83,570 | - |
| Wichita, KS | 180 | $41,030 - $83,660 | - |
Kentucky
| Metro Area | Total Employed | Annual Salary Range | Hourly Pay Range |
| --- | --- | --- | --- |
| Kentucky | 740 | $51,160 - $93,200 | - |
| Louisville/Jefferson County, KY-IN | 230 | $59,310 - $96,420 | - |
| Bowling Green, KY | 80 | $60,400 - $105,370 | - |
| Lexington-Fayette, KY | 70 | $45,400 - $75,850 | - |
Louisiana
| Metro Area | Total Employed | Annual Salary Range | Hourly Pay Range |
| --- | --- | --- | --- |
| Louisiana | 540 | $61,920 - $91,420 | - |
| New Orleans-Metairie, LA | 140 | $63,290 - $92,010 | - |
Maine
| Metro Area | Total Employed | Annual Salary Range | Hourly Pay Range |
| --- | --- | --- | --- |
| Maine | 320 | $60,020 - $82,680 | - |
| Portland-South Portland, ME | 170 | $61,660 - $82,680 | - |
Maryland
| Metro Area | Total Employed | Annual Salary Range | Hourly Pay Range |
| --- | --- | --- | --- |
| Maryland | 1330 | $60,050 - $97,340 | - |
| Baltimore-Columbia-Towson, MD | 950 | $60,050 - $97,090 | - |
| Salisbury, MD-DE | 90 | $59,610 - $78,290 | - |
| Cumberland, MD-WV | 80 | $59,010 - $97,260 | - |
Massachusetts
| Metro Area | Total Employed | Annual Salary Range | Hourly Pay Range |
| --- | --- | --- | --- |
| Massachusetts | 2520 | $65,430 - $130,340 | - |
| Boston-Cambridge-Nashua, MA-NH | 2170 | $64,050 - $130,340 | - |
| Springfield, MA-CT | 160 | $61,450 - $103,670 | - |
| Worcester, MA-CT | 140 | $76,930 - $107,770 | - |
| Leominster-Gardner, MA | 40 | $62,020 - $100,260 | - |
Michigan
| Metro Area | Total Employed | Annual Salary Range | Hourly Pay Range |
| --- | --- | --- | --- |
| Michigan | 2230 | $49,430 - $98,040 | - |
| Detroit-Warren-Dearborn, MI | 650 | $51,980 - $98,040 | - |
| Ann Arbor, MI | 220 | $65,930 - $106,990 | - |
| Grand Rapids-Wyoming, MI | 220 | $31,590 - $81,190 | - |
| Lansing-East Lansing, MI | 170 | $61,650 - $102,020 | - |
Minnesota
| Metro Area | Total Employed | Annual Salary Range | Hourly Pay Range |
| --- | --- | --- | --- |
| Minnesota | 1410 | $58,770 - $92,620 | - |
| Minneapolis-St. Paul-Bloomington, MN-WI | 830 | $59,900 - $100,210 | - |
| Mankato-North Mankato, MN | 90 | $55,220 - $100,110 | - |
| St. Cloud, MN | 70 | $39,780 - $83,050 | - |
| Duluth, MN-WI | 60 | $59,800 - $87,430 | - |
Mississippi
| Metro Area | Total Employed | Annual Salary Range | Hourly Pay Range |
| --- | --- | --- | --- |
| Mississippi | 650 | $61,140 - $79,770 | - |
| Jackson, MS | 170 | $63,620 - $84,120 | - |
Missouri
| Metro Area | Total Employed | Annual Salary Range | Hourly Pay Range |
| --- | --- | --- | --- |
| Missouri | 1350 | $56,110 - $79,400 | - |
| Kansas City, MO-KS | 770 | $40,120 - $85,470 | - |
| St. Louis, MO-IL | 670 | $59,760 - $81,940 | - |
| Springfield, MO | 190 | $55,890 - $74,080 | - |
| Columbia, MO | 90 | $59,890 - $96,850 | - |
Montana
| Metro Area | Total Employed | Annual Salary Range | Hourly Pay Range |
| --- | --- | --- | --- |
| Montana | 220 | $62,440 - $99,280 | - |
Nebraska
| Metro Area | Total Employed | Annual Salary Range | Hourly Pay Range |
| --- | --- | --- | --- |
| Nebraska | 590 | $60,890 - $80,590 | - |
| Omaha-Council Bluffs, NE-IA | 250 | $62,110 - $79,790 | - |
| Lincoln, NE | 170 | $59,290 - $85,070 | - |
Nevada
| Metro Area | Total Employed | Annual Salary Range | Hourly Pay Range |
| --- | --- | --- | --- |
| Nevada | 390 | $83,820 - $125,410 | - |
| Las Vegas-Henderson-Paradise, NV | 290 | $84,150 - $125,410 | - |
| Reno, NV | 80 | $80,630 - $102,690 | - |
New Hampshire
| Metro Area | Total Employed | Annual Salary Range | Hourly Pay Range |
| --- | --- | --- | --- |
| New Hampshire | 490 | $60,800 - $98,320 | - |
| Manchester, NH | 110 | $57,370 - $81,230 | - |
New Jersey
| Metro Area | Total Employed | Annual Salary Range | Hourly Pay Range |
| --- | --- | --- | --- |
| New Jersey | 2390 | $60,790 - $113,670 | - |
| Trenton, NJ | 430 | $46,020 - $95,090 | - |
New Mexico
| Metro Area | Total Employed | Annual Salary Range | Hourly Pay Range |
| --- | --- | --- | --- |
| New Mexico | 170 | $64,050 - $84,340 | - |
New York
| Metro Area | Total Employed | Annual Salary Range | Hourly Pay Range |
| --- | --- | --- | --- |
| New York | 4410 | $61,690 - $128,920 | - |
| New York-Newark-Jersey City, NY-NJ-PA | 4080 | $63,160 - $136,480 | - |
| Rochester, NY | 430 | $77,800 - $103,250 | - |
| Buffalo-Cheektowaga-Niagara Falls, NY | 320 | $39,590 - $100,140 | - |
| Albany-Schenectady-Troy, NY | 180 | $49,140 - $103,020 | - |
| Syracuse, NY | 180 | $61,610 - $92,320 | - |
North Carolina
| Metro Area | Total Employed | Annual Salary Range | Hourly Pay Range |
| --- | --- | --- | --- |
| North Carolina | 2360 | $59,120 - $81,710 | - |
| Charlotte-Concord-Gastonia, NC-SC | 380 | $62,360 - $76,770 | - |
| Durham-Chapel Hill, NC | 310 | - | - |
| Greensboro-High Point, NC | 210 | $61,140 - $82,410 | - |
| Winston-Salem, NC | 200 | $58,820 - $81,860 | - |
| Wilmington, NC | 160 | $34,640 - $84,060 | - |
| Raleigh, NC | 120 | $62,620 - $83,600 | - |
| Fayetteville, NC | 80 | $46,050 - $79,160 | - |
| Asheville, NC | 60 | $59,240 - $65,910 | - |
| Greenville, NC | 40 | $29,060 - $111,280 | - |
North Dakota
| Metro Area | Total Employed | Annual Salary Range | Hourly Pay Range |
| --- | --- | --- | --- |
| North Dakota | 170 | $61,840 - $82,470 | - |
| Fargo, ND-MN | 80 | $61,400 - $82,470 | - |
| Bismarck, ND | 50 | $63,070 - $83,920 | - |
Ohio
| Metro Area | Total Employed | Annual Salary Range | Hourly Pay Range |
| --- | --- | --- | --- |
| Ohio | 3670 | $61,110 - $101,110 | - |
| Columbus, OH | 840 | $63,670 - $103,790 | - |
| Cincinnati, OH-KY-IN | 670 | $62,870 - $101,950 | - |
| Cleveland-Elyria, OH | 570 | $49,920 - $101,330 | - |
| Dayton, OH | 330 | $58,440 - $98,580 | - |
| Toledo, OH | 200 | $57,700 - $83,680 | - |
| Youngstown-Warren-Boardman, OH-PA | 90 | $58,070 - $95,620 | - |
| Canton-Massillon, OH | 40 | $39,010 - $79,610 | - |
Oklahoma
| Metro Area | Total Employed | Annual Salary Range | Hourly Pay Range |
| --- | --- | --- | --- |
| Oklahoma | 560 | $49,960 - $77,240 | - |
| Oklahoma City, OK | 190 | $49,340 - $84,730 | - |
| Tulsa, OK | 110 | $64,560 - $84,170 | - |
Oregon
| Metro Area | Total Employed | Annual Salary Range | Hourly Pay Range |
| --- | --- | --- | --- |
| Oregon | 560 | $75,130 - $102,600 | - |
| Portland-Vancouver-Hillsboro, OR-WA | 460 | $76,720 - $105,910 | - |
Pennsylvania
| Metro Area | Total Employed | Annual Salary Range | Hourly Pay Range |
| --- | --- | --- | --- |
| Pennsylvania | 4010 | $63,480 - $106,140 | - |
| Philadelphia-Camden-Wilmington, PA-NJ-DE-MD | 2210 | $65,440 - $107,740 | - |
| Pittsburgh, PA | 680 | $63,480 - $101,790 | - |
| Scranton--Wilkes-Barre--Hazleton, PA | 260 | $57,370 - $100,800 | - |
| Harrisburg-Carlisle, PA | 240 | $61,930 - $102,250 | - |
| Allentown-Bethlehem-Easton, PA-NJ | 190 | $61,790 - $103,800 | - |
| Erie, PA | 120 | $62,470 - $101,910 | - |
| York-Hanover, PA | 110 | $62,950 - $98,660 | - |
| Lancaster, PA | 100 | $60,980 - $100,430 | - |
| Johnstown, PA | 60 | $51,930 - $61,220 | - |
| Reading, PA | 50 | $63,660 - $101,140 | - |
Rhode Island
| Metro Area | Total Employed | Annual Salary Range | Hourly Pay Range |
| --- | --- | --- | --- |
| Rhode Island | 240 | $61,950 - $102,860 | - |
| Providence-Warwick, RI-MA | 270 | $62,850 - $101,740 | - |
South Carolina
| Metro Area | Total Employed | Annual Salary Range | Hourly Pay Range |
| --- | --- | --- | --- |
| South Carolina | 840 | $62,260 - $98,050 | - |
| Charleston-North Charleston, SC | 230 | $62,260 - $105,180 | - |
| Greenville-Anderson-Mauldin, SC | 150 | $62,310 - $98,050 | - |
| Columbia, SC | 130 | $68,080 - $103,660 | - |
| Florence, SC | 60 | $19,320 - $67,480 | - |
| Hilton Head Island-Bluffton-Beaufort, SC | 30 | $66,920 - $87,320 | - |
South Dakota
| Metro Area | Total Employed | Annual Salary Range | Hourly Pay Range |
| --- | --- | --- | --- |
| South Dakota | 270 | $60,530 - $77,670 | - |
Tennessee
| Metro Area | Total Employed | Annual Salary Range | Hourly Pay Range |
| --- | --- | --- | --- |
| Tennessee | 1510 | $60,310 - $97,610 | - |
| Nashville-Davidson--Murfreesboro--Franklin, TN | 430 | $64,960 - $100,550 | - |
| Memphis, TN-MS-AR | 310 | $53,530 - $98,440 | - |
| Knoxville, TN | 170 | $63,350 - $87,680 | - |
| Kingsport-Bristol-Bristol, TN-VA | 100 | $58,230 - $68,870 | - |
| Johnson City, TN | 80 | $77,900 - $96,070 | - |
| Chattanooga, TN-GA | 70 | $57,850 - $99,280 | - |
| Jackson, TN | 60 | $63,350 - $74,380 | - |
Texas
| Metro Area | Total Employed | Annual Salary Range | Hourly Pay Range |
| --- | --- | --- | --- |
| Texas | 5890 | $62,990 - $100,030 | - |
| Houston-The Woodlands-Sugar Land, TX | 1470 | $74,140 - $101,070 | - |
| Dallas-Fort Worth-Arlington, TX | 1190 | $64,820 - $106,410 | - |
| Austin-Round Rock, TX | 480 | $62,410 - $100,110 | - |
| San Antonio-New Braunfels, TX | 400 | $64,530 - $96,110 | - |
| El Paso, TX | 180 | $57,070 - $95,870 | - |
| Killeen-Temple, TX | 150 | $61,700 - $83,920 | - |
| McAllen-Edinburg-Mission, TX | 110 | $51,480 - $83,450 | - |
| Laredo, TX | 90 | $38,540 - $96,340 | - |
| Odessa, TX | 40 | $62,590 - $81,800 | - |
| Brownsville-Harlingen, TX | 30 | $51,550 - $67,140 | - |
| Lubbock, TX | 0 | $72,070 - $99,590 | - |
Utah
| Metro Area | Total Employed | Annual Salary Range | Hourly Pay Range |
| --- | --- | --- | --- |
| Utah | 860 | $62,100 - $101,880 | - |
| Salt Lake City, UT | 450 | $63,270 - $101,880 | - |
| Provo-Orem, UT | 220 | $79,390 - $124,950 | - |
| Ogden-Clearfield, UT | 70 | $60,820 - $76,790 | - |
Virginia
| Metro Area | Total Employed | Annual Salary Range | Hourly Pay Range |
| --- | --- | --- | --- |
| Virginia | 0 | $64,660 - $93,250 | - |
| Winchester, VA-WV | 90 | $61,870 - $99,950 | - |
| Charlottesville, VA | 80 | $83,020 - $104,840 | - |
| Blacksburg-Christiansburg-Radford, VA | 50 | $63,090 - $98,840 | - |
| Richmond, VA | 0 | $64,330 - $85,270 | - |
| Virginia Beach-Norfolk-Newport News, VA-NC | 0 | $65,720 - $80,910 | - |
Washington
| Metro Area | Total Employed | Annual Salary Range | Hourly Pay Range |
| --- | --- | --- | --- |
| Washington | 1170 | $64,470 - $99,740 | - |
| Seattle-Tacoma-Bellevue, WA | 610 | $68,000 - $102,240 | - |
| Spokane-Spokane Valley, WA | 200 | $62,690 - $78,110 | - |
| Bellingham, WA | 70 | $68,770 - $106,200 | - |
| Olympia-Tumwater, WA | 50 | $62,390 - $81,750 | - |
West Virginia
| Metro Area | Total Employed | Annual Salary Range | Hourly Pay Range |
| --- | --- | --- | --- |
| West Virginia | 310 | $57,260 - $95,740 | - |
Wisconsin
| Metro Area | Total Employed | Annual Salary Range | Hourly Pay Range |
| --- | --- | --- | --- |
| Wisconsin | 1000 | $65,250 - $94,710 | - |
| Milwaukee-Waukesha-West Allis, WI | 330 | $58,450 - $86,590 | - |
| Madison, WI | 130 | $66,590 - $98,020 | - |
| Fond du Lac, WI | 70 | $64,040 - $99,680 | - |
| Green Bay, WI | 50 | $59,800 - $118,530 | - |
Wyoming
| Metro Area | Total Employed | Annual Salary Range | Hourly Pay Range |
| --- | --- | --- | --- |
| Wyoming | 140 | $53,510 - $80,180 | - |
Puerto Rico
| Metro Area | Total Employed | Annual Salary Range | Hourly Pay Range |
| --- | --- | --- | --- |
| Puerto Rico | 460 | $29,210 - $40,030 | - |
| San Juan-Carolina-Caguas, PR | 270 | $29,540 - $46,610 | - |
| Mayaguez, PR | 60 | $24,430 - $45,860 | - |
| Ponce, PR | 50 | $29,340 - $37,020 | - |
Table data taken from 2022 BLS (http://www.bls.gov/oes/current/oes251072.htm)