Nurse Educator Schools in New York
New York is a great state to work in a variety of nursing careers – both in practice and outside. Nursing education is one such area that practice nurses shift career to every year. If you want to teach students or professionals, this is how you can enter that career.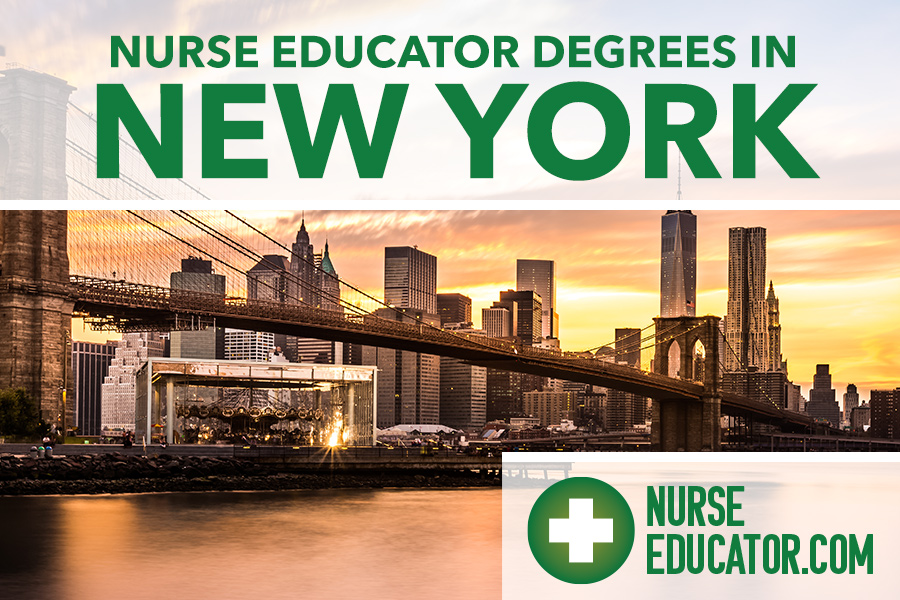 What Are the Online Nursing Education Prerequisites in New York?
The way to work as a nursing educator in New York is first to obtain an undergraduate degree – this can be either an ADN or BSN. Whichever you have, you still need a Registered Nursing license. This is mandatory even if you have no intention of working in clinical practice. You also need a graduate degree such as a master's degree (MSN) with a nursing education option or an MSN dedicated to nursing education. You can also opt for a doctorate degree in nursing education, such as a DNP, Ph.D., or Ed.D.
Online BSN to MSN Nurse Educator Programs
New York has many campus and hybrid BSN to MSN Nurse Educator programs, and presently just one fully online. Students learn principles of teaching diagnostics, treatment, theory, practice, and leadership and health policy among others:
A regionally accredited BSN
A minimum GPA of 3.0 on the 4.0 scale
Unencumbered RN license
Demonstrate a minimum 2,000 hours of practice experience
Undergraduate course in statistics to minimum grade C
Non-native English speakers must prove English proficiency
Online Doctorate Nurse Educator Programs: DNP, Ph.D., Ed.D.
In New York, there are various online Doctorate Nurse Educator programs available for individuals interested in advancing their nursing careers. The three main types of doctoral degree programs in nursing education are Doctor of Nursing Practice (DNP), Doctor of Philosophy (Ph.D.), and Doctor of Education (Ed.D.).
Online DNP programs focus on advanced clinical skills, evidence-based practice, healthcare management, and leadership, and prepare nurses for leadership roles in clinical practice, education, and healthcare management.
Online Ph.D. programs in nursing education focus on research, scholarship, and the advancement of nursing knowledge, preparing nurses for academic and research careers, leadership roles, and advanced nursing practice.
Online Ed.D. programs in nursing education are designed for individuals interested in leadership roles in nursing education, such as administration, research, and policy-making.
All online Doctorate Nurse Educator programs in New York have similar admission requirements, such as:
A master's degree in nursing or a related field
A minimum GPA requirement (usually 3.0 or above)
A valid RN license
Prospective students should review the specific admission requirements for each program to determine their eligibility and ensure a successful application.
Nurse Educator Licensing and Certification in New York
Nursing educators in New York are required to keep up all standards required for RN licensure, even if they will not have clinical responsibilities beyond the minimum required to maintain the license.
Nursing educators have a certification system available. It is not mandatory, but it is recommended for better opportunities. The three types currently available:
CNE: The first type of certification is for academic professionals
CNEcl: This second type is for trainers of working professionals
CNEn: This third type is for novices of the other two types – specifically people with less than three years of experience
Like licensure, certification requires keeping up minimum eligibility standards.
RN licensing in New York is $142 application fee and a further $200 for the examination. Renewal is $73 while endorsement cost is $143. CNE cost is $400 for NLN members and $500 for non-members; this is the same in all states.
Who Hires Nurse Educators in New York?
What careers might be open to you in New York as a nursing educator?
Academic teaching: Colleges and universities require nurses with practical experience to teach both undergraduate and graduate students
Professional educators: Training professional nurses and nursing support with professional development and upskilling
Private training provision: This may involve training medical professionals, but you could also instruct non-clinical staff from an independent provider
Charities: The third sector requires trainers and educators for aid workers and support staff among others
Public health: Typically in public outreach, you'll use clinical knowledge to a lay audience
List of Nurse Educator Degree Programs in New York
Ready to find an online or campus-based nurse educator degree program in New York? Explore our listings to find the perfect program that matches your academic goals and career aspirations.
Amherst, NY
Binghamton, NY
Brooklyn, NY
Brookville, NY
Buffalo, NY
Garden City, NY
New York, NY
Newburgh, NY
Staten Island, NY
Stony Brook, NY
Utica, NY
Are we missing your school's program or need to update information listed? Please contact us so we can make the necessary changes.