Nurse Educator Resume Guide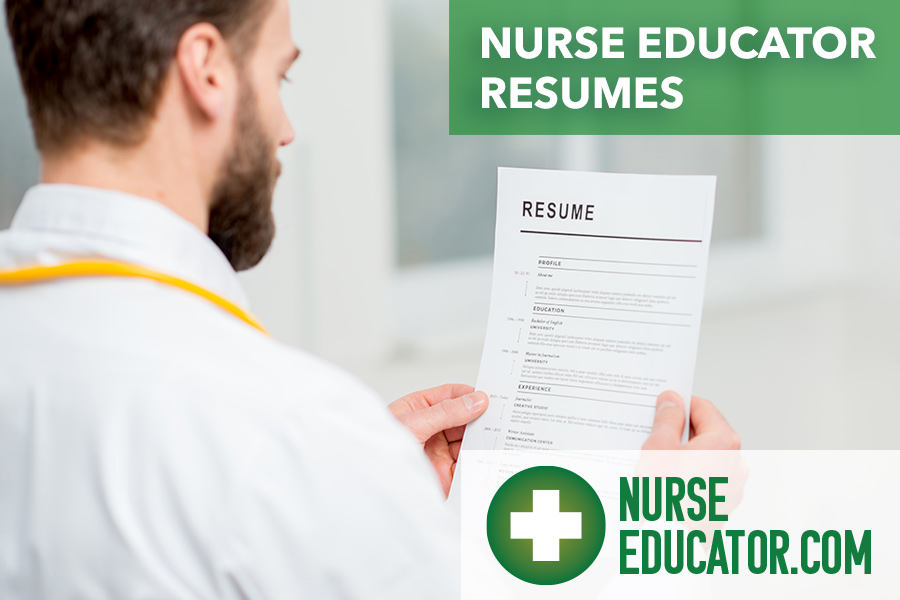 Clinical nurses who have obtained their master's degrees or certifications in nursing education can get themselves job-search ready to transition from the patient's bedside to the front of the class. To get started, nursing educators need to put together a resume focused on their teaching work in addition to their clinical nursing skills. In this way, the resume must both show what the nurse can do from a clinical perspective as well as that the nurse is capable of teaching these clinical skills to students. Showing this balance of skills on the resume is likely to capture the attention of the hiring manager.
A persuasive yet informative resume is the bridge between applying for a job and getting a call for that RN interview. Other support pieces, such as a cover letter, LinkedIn profile, and recommendation letters, help enable the job seeker's quest for a nurse educator job.
Basics of a Nursing Educator Resume
In a compelling yet succinct way, nursing educator resumes should express why the applicant is a top candidate for the open position. It should do this by highlighting their relevant skills and experience while also showing a bit of their individual personality. The goal of a nursing educator's resume is to prompt the hiring manager or recruiter to dial up the candidate and arrange an interview.
Ideally, nursing educators will want their resumes to highlight both their clinical experiences as well as their soft skills, such as communication, leadership, and mentoring abilities. Bedside nurses who are transitioning to an educator role will particularly want to highlight their teaching practicums or internships. It will also be valuable for them to emphasize any mentoring work they performed in a clinical setting.
Depending on their backgrounds, generalized nurse educators will typically teach fundamental nursing skills and techniques to students in associate or bachelor's programs. Those with a background in pediatrics, for instance, will tend to teach in this area of specialty. The resume should highlight which one of these areas the candidate is most likely seeking to teach.
Nursing Educator Resume 101
A nursing educator's resume should demonstrate a blend of both clinical competencies as well as communications and leadership skills. It needs to convey that the candidate is capable of shifting gears from a bedside nurse to an educator. For current nursing educators, the resume should highlight teaching and instructional work in a clinical setting rather than pure clinical skills. The nursing educator's resume contains the applicant's name, contact info, job title, summary, professional work experience, education and certifications, and skills.
For nurse educators who have 8+ years of experience both in the field and in the classroom, it is typical for resumes to be two pages in length.
As resumes are professional documents, they should be easy to read without any spelling or grammatical errors. Typos and such exhibit a carelessness that hiring managers don't like. Job seekers are well advised to have a colleague help proofread the document for them.
Today's resumes avoid listing hobbies and interests; they also should not include age, marital status, race, religion, ethnicity, sexual orientation, and the like.
Keywords
Listing search-friendly keywords in the resume helps ensure it gets picked up by Applicant Tracking Systems (ATS) commonly used by job sites and company databases. Nurse educator or clinical educator with the applicant's specialty is common keywords for this field.
Resume Style
When preparing a resume, job candidates should choose a design style that is professional yet without unnecessary adornments. Whether a modern or elegant style, the overall design should be cohesive with a high level of readability. When putting together their resumes, nurse educators should consider the following:
Elaborate fonts or graphical elements are best to be avoided. They can hinder applicant tracking systems' abilities to scan the document properly. Similarly, it is best to not use columns.
A 10- to a 12-point font for text is adequate; the document should contain sufficient white space and margins.
Bullet points and short paragraphs no longer than three lines in length are preferred.
Bold and italics can be used sparingly throughout the resume to highlight successes or important information.
A photo is not needed in a nursing educator's resume.
Sections of a Nursing Educator Resume
The nursing educator resume contains the following sections
Name and Contact Info
Summary with a job title
Skills, clinical and soft skills
Experience
Education, Licensure, and Certifications
Technical Skills
Optional sections may include:
Honors and Awards
Languages
Professional Memberships
Volunteer Experiences
FAST FACTS: According to the American Association of Colleges of Nursing (AACN), nursing schools turned away 90,000+ qualified applications in 2021 due to an insufficient number of faculty, clinical sites, preceptors, and more.
Name and Contact Info
In large font, the job candidate's name, with appropriate title and degree designations, should be spelled out at the head of the resume. His or her contact information – phone number, email, and home city and state, should be listed underneath it. Current LinkedIn profile links can be added as well.
Summary
Here, the nursing educator should provide a three to four-sentence paragraph that covers their key skills and experiences, including their objective of transitioning from a clinical nurse to a nurse educator.
Examples of this objective statement might include:
Conscientious clinical nurse with 10 years of pediatric experience seeking to transition into a nursing educator position.
Compassionate registered nurse with 10 years of both clinical and teaching experience, seeking a nurse educator position.
Pediatric nurse offering 10 years of specialized clinical experience and a recently earned degree in nursing education.
The objective statement in the resume should directly state the applicant's intention to the recruiter, who may be going through a heap of resumes for several different jobs. The rest of the summary section might list core skills and experiences, including areas of specialties. Examples might be:
Extensive background in mentoring new nurses on various clinical procedures in the pediatric unit.
Proven ability to teach and demonstrate clinical skills to students and new nursing grads in practicum and work environments.
Experienced in developing a new procedural training manual for onboarding newly hired nurses.
Job candidates should avoid writing sentences that are vague and don't say much, such as "Seeking a position to apply my clinical skills and education".
Resumes are read very quickly, and a clear and succinct objective statement in the summary can help the recruiter or hiring manager slot the resume into the "call for an interview" pile.
Education, Licensure, and Certifications
The education section should list the highest degree earned first, including the college or university name, location, and graduation date. The nurse's bachelor's and any associate's degrees can then follow.
The nurse educator candidate should also list all nursing certifications and licensures, including dates. It may speed up the vetting process if nurses list their license numbers directly on their resumes.
Below is an example of how certifications and licensure can be listed:
License: Registered Nurse, Active; New York, #55443322; expiration 01/2024
Certification: Basic Life Support (BLS), American Heart Association, expiration 11/2025
Experience
In most cases, the professional experience section of the resume is the most important part and is examined most closely by hiring managers. Those seeking a nursing educator job should focus on their most recent experience, including practicums and internships. Their nursing teaching or instructional background should include both the topics they taught (generalized or a specialty) as well as the teaching methods they used. They should also include any experience they had developing lessons or teaching online.
More than teaching, the experience section should also include clinical work, including any experience providing clinical care within a specific area of knowledge. In this space, nurses should also include any leadership or mentoring they performed. When possible, nurses should add quantifiable content, notable accomplishments, and any recognitions.
The experience section should include short paragraphs and bullet points, each one starting with an impactful action verb. The following is a basic, non-descript experience section for a nursing educator:
Taught clinical procedures to nursing students.
Reviewed students' performance.
The examples below are better because they are quantifiable and specific:
Demonstrated how to perform blood draws to students in a clinical setting, including tips for calming anxious patients.
Developed comprehensive clinical evaluations for assessing students' competencies and shortcomings.
Trained 18 students on medical device operating procedures enabling all to demonstrate proficiency in its use.
Provided individual instruction and extra support to students who were struggling to perform wound care for diabetes patients.
A nurse educator's resume should include clinical knowledge but also strength in the ability to teach this knowledge to students via effective communication and mentoring. Showing curriculum development, lesson planning, and the creation of training documents is also beneficial.
Skills
Again, the skills section should highlight the nurse educator's capabilities as both a nurse and a dedicated teacher. This section should highlight teaching, course development, and assessment/evaluation skills as well as clinical know-how. Here the nurse might want to list "distance learning" or "online learning" if relevant. Nurse educators should list their clinical skills, including specialty areas, such as emergency room care, cardiac care, surgical care, or pediatrics in this section.
Technical Skills
Resumes for nursing educators should list the computer skills they have as well as the medical equipment and devices they can use. Those looking to teach online should list the distance learning platforms they are familiar with.
Optional Sections
Professional organizations, volunteer experience, and awards can be listed here in a succinct manner. Nurse educators can also list if they are open to relocation and travel or if they are equipped to work remotely from a home office.
Example of Nursing Educator Resume
We've reviewed each section of the nurse educator's resume, so let's put it together in a comprehensive format:
Joanne Douglas, MSN, BSN, RN
New York, NY∙ (212) 555-5555 ∙ [email protected]
Clinical Nurse Educator
Compassionate Registered Nurse, with 12+ years of clinical (ICU and other) experience, seeking a nursing educator role. Provide quality, procedure-focused patient care to critical, high-need patients. Instruct and demonstrate nursing procedures and protocols to new nurses and students.
Experience
New York Medical Center, New York, NY, March 2022 to August 2022
Nursing Educator (Internship)
Prepared lessons and taught nursing fundamentals and clinical competencies to diverse students.
Demonstrated nursing techniques in a clinical setting. Oversaw students and provided guidance to support their proficiency. Enable 94% of students to successfully pass their exams.
Assessed student performance and determined potential learning or instructional gaps. Adjusted curriculum or teaching method accordingly.
New York Hudson Hospital, New York, NY, January 2018 to March 2022
Registered Nurse / Team Lead, Intensive Care Unit
Delivered evidence-based, clinical care to patients with critical health conditions working as part of an integrated medical team.
Took on leadership / mentoring role to support new nurses in performing day-to-day responsibilities from techniques and methods to handling emotional patients.
Supported patients with organ failure, including those on assistive devices.
Performed patient assessments, administered treatments, and monitored patients' statuses.
Proactively educated patients and families on care plan. Worked with them to overcome any resistance.
Adhered to ever-changing Covid-19 mandates during times of considerable uncertainty and stress.
St. Joseph's Medical Center, New York, NY, Dec. 2008 to Nov. 2017
Registered Nurse, Progressive / Intensive Care Unit
Provided quality clinical care to patients with medium, improving, and critical health conditions collaborating with units on the floor.
Assessed and monitored patients' conditions. Performed patient assessments and monitored their status.
Administered treatments and provided comprehensive care to achieve positive patient outcomes.
Educated patients and families on post-discharge treatment plans.
Empathized and supported patients and their families during challenging situations.
Education:
Master of Science in Nursing (MSN), Nursing Education, Dugen University, Dugen, NY; 2022
Bachelor of Science in Nursing (BSN), Smith University, New York, NY; 2018
License: Registered Nurse, Active; Ohio, #55443322; expiration 01/2023
Certification: Basic Life Support (BLS), American Heart Association, expiration 11/2024
Skills
Clinical Nursing Education, Curriculum Design, Lesson Planning, Student Assessments, Team Leadership / Mentoring, Intensive Care, Progressive Care, Treatment Administration, patient monitoring, patient communications, online / distance learning, teamwork
Technical Skills
Blackboard, Moodle, Canvas LMS and other distance learning platforms, Epic, Ring Central, Microsoft Office / 365
Professional Membership: American Nurses Association, New York
Volunteer: Support and guide RNs going through career burnout as an Integrative Nurse Coach.
Cover Letters
Many jobs still ask for cover letters with resumes though they are not reviewed as closely as they used to be. A cover letter, when possible, should be addressed directly to the hiring manager.
Generally speaking, cover letters should be less than a page in length and should tell the reader why they are interested and qualified for the job. Including a few key specifics or career highlights can help get the reader's attention.
The applicant can discuss, for instance, what motivated them to transition from being a bedside nurse to becoming a nursing educator. They can elaborate on what they like about teaching, what makes them excel as a candidate in this area, and why they are a good fit for the specific organization. The cover letter does not rely on keywords or the use of ATS.
Finding a Nurse Educator Job
Once the resume is fully prepared and proofread, the nurse educator is ready to submit it to job openings.
Nurse educators today commonly use online job boards to find openings. Both mainstream and nursing-specific job boards allow candidates to search for and apply to a range of nursing educator jobs. Most such job sites also let candidates post their resumes online so they can be contacted directly by recruiters.
It is also a good option for nurse educators to reach out to current and former employers, managers, and colleagues to tell them they are in the market for a new teaching position. Many colleges and hospitals have openings for nursing educators. Networking and reconnecting with former colleagues can be an effective way to land your next gig.
Sometimes, job candidates can spot unadvertised job openings directly on the hiring organization's website. That is, by looking at an organization's career page, job seekers can find openings that aren't otherwise advertised.
Search Terms for Nurse Educators
When searching for a nurse educator position at either a hospital or college, it might be helpful to use the following search terms:
Clinical Nurse Educator – ICU specialty
Clinical Nurse Instructor
Unlike other nursing jobs where the job titles can get long and cumbersome, Nurse Educator seems to be a fairly simple keyword search. This should make it fairly easy to use when searching for jobs on major job boards or hospital websites.
Large hospital groups commonly allow job applicants to create an online profile (similar to a resume) with a login and password. Once created, this profile is stored on the hospital's website so it can be used to apply for multiple positions. Recruiters at the hospital may use it to contact applicants.
Searching for Alternative Nurse Educator Jobs
Nurse educators can find employment outside of colleges and educational institutions. Hospitals and medical centers commonly hire nurse educators to train staff on clinical best practices, new procedures, safety protocols, and more. Many pharmaceutical or medical device companies hire nurses to educate and train users and even sales reps on their products.
Nurse educators looking for work outside of an educational setting may find job openings in the following places:
Hospitals and medical centers
Pharmaceutical corporate offices
Medical device or product companies
Healthcare-related government agencies
Health insurance companies
Outpatient surgical centers
For clinical nurses transitioning to a nurse educator role, the employer will likely provide some on-the-job training or job shadowing to help the new hire get acquainted with the new gig.
Social Media
Nurse educators can develop and grow their professional career network with social media sites like LinkedIn. Here, nurse educators can find job postings as well as engage with nursing-related networking groups and communities. These less-formal discussion boards can also be a great way to find out about an opening. Recruiters can also find candidates' availability on LinkedIn, so they should make sure their profile, like their resume, is professional and updated.