Online Nurse Educator Degrees and Programs
For those that enjoy nursing and teaching, becoming a nurse educator could be the ideal opportunity to pursue a fulfilling career. Online nurse educator degrees and programs provide a way for nurses to obtain the education they need, allowing them to advance their skills and make a difference in the community. Aspiring nurse educators will need to already have obtained a bachelor's degree in nursing (BSN) and hold an active RN license before they can pursue a specific nurse educator degree, which is only available at the graduate and doctoral levels.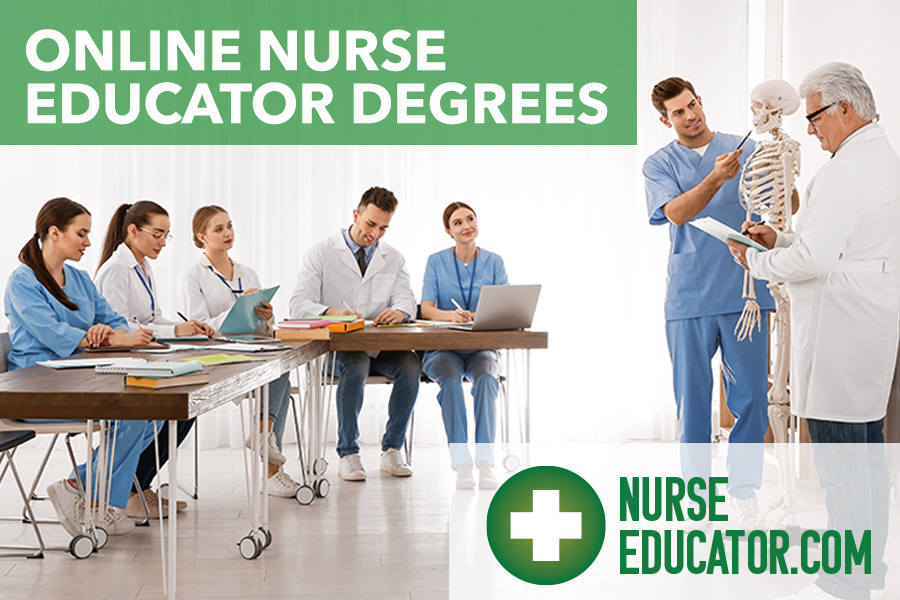 There are several degree routes for those interested in becoming nurse educators. Depending on the student's prior education level, they may opt for a master's degree, a post-master's certificate, or a doctorate such as a DNP, Ph.D., or Ed.D. Learn more about each degree type below:
Online vs. Traditional Nurse Educator Programs
Becoming a nurse educator can be done in several ways, with online nurse educator programs and traditional, brick-and-more educator programs available.
The benefits of an online program include the following:
Being able to study at your own pace, including taking courses at a rate that fits your needs
Continuing to work and meet other obligations while earning your degree
Lower costs thanks to no room and board costs to pay
Accredited programs that meet licensing requirements are available
Choose a school from anywhere in the country to get your education
The cons of an online nurse educator program include the following:
There's less hands-on education and learning with peers
Most programs will require you to complete clinical work and internships in person at local facilities
Some students may find online programs difficult if they are unable to stay motivated
Traditional nurse educator programs offer some benefits:
Students can interact with and learn in person, which is better for some students' educational goals
Traditional nurse educator programs may allow you to obtain a local internship to start working right away
Traditional nurse educator disadvantages include:
Having to stick to the schedule that's available from the school or provider
Paying a higher cost for room and board or limiting your options to the schools nearby
Attention full-time may be difficult in person for those who are working
Applying for an Online Nurse Educator Program
Online nurse educator programs differ in their admissions processes and the qualifications they require for applicants. Most of the time, these programs are available to those who have a degree. To become a nurse educator, you will have to earn a master's in nursing with a nursing education, or if you already have a master's degree, you may be able to complete a post-master certificate.
Prerequisites
Each college or university will have its own requirements for prerequisites for those who enroll in an online nursing educator program. Typically, these requirements will include the following:
Work experience in the field (generally two years or more)
Completing at least a bachelor's degree in a related field
GPA requirements (generally 3.0 or higher)
Completion of necessary undergraduate education programs
CV or resume documenting work experience
GRE in some situations
Professional references
Transcripts for all education completed
TOEFL test in some cases
You may find differences in educational programs based on which degree platform you are pursuing. For example, if you have a master's degree, you may wish to complete a post-master's certificate program, which may require more work experience in the nursing field. Doctorate programs tend to be more challenging to enroll in without some experience in research.
Doctoral program admission may also require a higher level of education and a master's degree. Some applicants will complete a master's degree alongside their doctoral degree.
Accreditation
When choosing a nurse educator program, including one that is available online, it is critical to focus heavily on selecting a program most likely to provide you with the skills and knowledge needed. Accreditation can help you to do this.
To be accredited, an organization must pursue the process and allow third-party organizations to review their educational processes, program requirements, and other data to ensure it provides at least the minimum level of requirement. This typically means the program is providing quality education.
For most online nursing education degree programs, accreditation is necessary. It can help students obtain their license, and if working as a nurse educator, it may also help you to show a future employer that your education is valid.
For nursing education, accreditation typically comes from the Commission of Collegiate Nursing Education (CCNE). CCNE only accredits bachelor's degree programs. Another option could include accreditation by the Accreditation Commission for Education in Nursing (ACEN). ACEN typically accredits all levels of nursing, including doctoral and master's programs.
Specialty Opportunities
Many students are passionate about a specific area of nursing or medicine. If that is the case, it is possible to pursue an educational specialization in that area. For example, some individuals may be passionate about working with children and therefore want to become pediatric nurse educators. This would allow you to focus your education on preparing nurses for the world of pediatrics.
Though most nurse educator programs do not offer a specialization in a specific field, there may be graduate certificates you can pursue that can help you to round out your education in a specific area of interest to you in areas like diabetes treatment, orthopedics, cardiology, or gerontology.