Ph.D. Nurse Educator Programs
If your career goals include research and advanced practice nursing, earning a degree beyond a bachelor's is essential. You have the option of earning either a Master of Science (MSN) in nursing education or a doctorate degree, such as the Ph.D in Nursing Education. Your career goals and the length of time it takes to complete each program are the top considerations when determining which option is right for you. Luckily, online Ph.D. Nurse Educator programs are available for those who don't think they have the time for a doctorate degree of this caliber.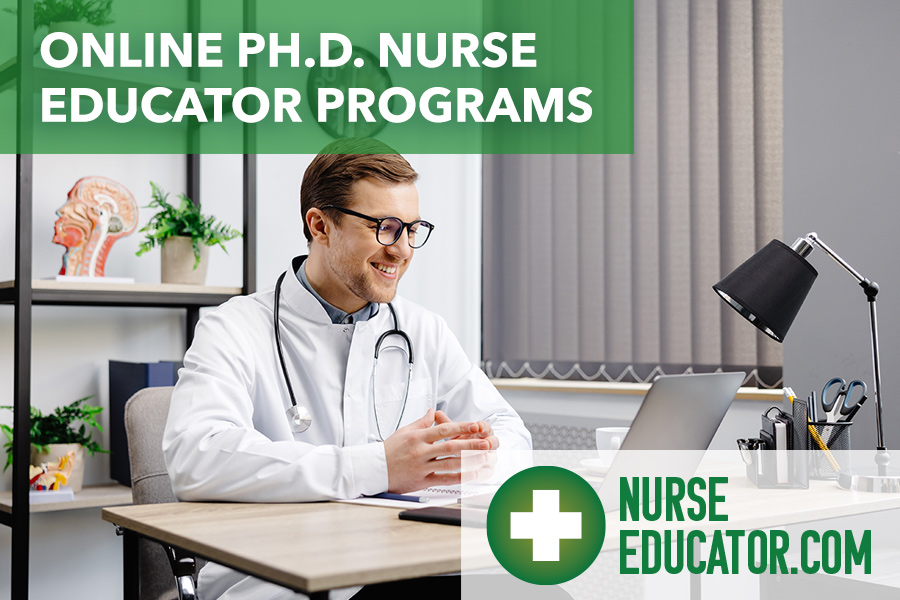 What Is a Ph.D. Nurse Educator Degree?
A Ph.D. nurse educator degree is a doctorate degree, meaning it's the highest degree level a Nurse Educator can obtain (with equal standing given to other doctorate degree types, as discussed below). The American Association of Colleges of Nursing endorsed changing the minimum entry-level requirement for nurse educators from a master's to a doctorate degree in 2004. Since that time, it has been more challenging for people with an MSN to secure a nurse educator job due to high competition. Schools in all 50 states now offer the nurse educator doctorate degree.
The Bureau of Labor Statistics (BLS) reports that nurse educators with the most experience and education earn approximately $125,000 a year. Examples of coursework you will complete at the doctorate level include:
Care Systems and Chronic Illness
Quantitative and Qualitative Research
Research and Development
Scientific Inquiry
Statistics
All Ph.D. candidates prepare a dissertation that they research, write, and defend. The process takes one to three years, depending on your areas of interest and the topic you choose.
2023 - Best PhD in Nursing Education Programs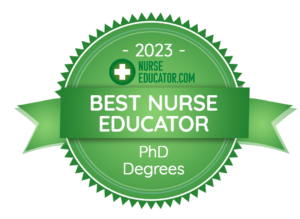 NurseEducator.com's PhD in Nursing Education rankings are based on a methodology that takes into account a variety of important factors, including the completion rates, affordability, competitiveness, variety of programs offered, and the level of faculty experience. The rankings are designed to provide an objective and comprehensive look at the best nursing education programs in the world. We believe that the criteria used in our methodology accurately reflect the quality of the programs, and that our rankings give prospective students the best information available for making an informed decision. To learn more about our methodology, please visit our methodology page.
Nova Southeastern University
Nova Southeastern University, located in Fort Lauderdale, Florida, is an accredited private university with over 20,000 students. It offers a wide range of degree programs, including a PhD in Nursing Education. It is one of the largest independent universities in the United States, and its diverse student body is composed of students from over 100 countries.
Liberty University is a private university located in Lynchburg, Virginia. Founded in 1971, Liberty is now the largest Christian university in the world, with over 110,000 students enrolled globally. Liberty offers a wide range of degree programs, including a PhD in Nursing Education. With an emphasis on Christian values, Liberty provides students with an education rooted in faith.
University of Northern Colorado
The University of Northern Colorado is located in Greeley, Colorado and is a public university. With 14,902 students, it offers over 100 undergraduate and graduate programs, including a PhD in Nursing Education. UNC has a strong commitment to student success and a tradition of excellence.
Are Online Ph.D. Nurse Educator Programs Available?
From the University of Alabama to the University of Wyoming, you have plenty of online enrollment options available to you. The hundreds of schools across the United States that offer this degree option typically do so either entirely online or as a hybrid program.
Before you enroll at a school, reflect on how you learn best and your preferences regarding whether you complete courses online or in person. If you work, have a family to care for, or both, you will probably find the online option most convenient due to the flexibility. You can watch lectures and complete assignments whenever it is convenient for you.
A mix between online and traditional on-campus delivery could be ideal if you place a high value on face-to-face interactions with professors and other students. Regardless of which option you choose, you should be aware that you must complete your clinical requirements in person.
Nurse Educator Ph.D. Prerequisites
Admissions requirements are usually the same for both campus-based and online Nurse Educator Ph.D. programs. Typical prerequisites include:
Completion of a BSN or MSN degree from an accredited institution
Cumulative GPA of at least 3.0 in all previous college coursework
GRE exam score
Official transcripts from all previous schools attended
Personal statement describing your career goals
Unrestricted U.S.RN license
Up to three letters of recommendation
Obtaining certification as a nurse educator can give you a competitive advantage. The National League for Nursing offers certification options for nurse educators and clinical nurse educators.
Below is the admissions process at Grand Canyon University, which is typical of schools offering this degree program. The process is the same for online and on-campus students, except for the requirement that students attending in-person classes schedule a campus visit before courses begin.
The first step at any college or university is to submit a request form that indicates the degree you prefer, whether you're interested in the online or hybrid option, and your timeline for starting your studies. Next, you should complete the school's application and attach all the required information listed above. If you need financial aid, researching your options is the next step. You then need to wait to hear from the school regarding your official acceptance.
According to the BLS, the demand for nurse educators is higher than average. The agency does not expect the demand to lower anytime soon, thanks to an aging population and increasingly complex health conditions.
Nurse Educator Ph.D. vs. Other Doctorate Degree Types
Students sometimes confuse this degree option with the Doctor of Nursing Practice (DNP). The focus of the Ph.D. nurse educator degree is scholarly research and inquiry with the purpose of expanding knowledge about nursing. In contrast, students pursue the DNP degree for the purpose of improving patient outcomes. The primary focus is obtaining higher-level skills in nursing.
When it comes to coursework, DNP candidates focus on advanced practice nursing, evidence-based nursing, and developing leadership skills. Typical courses in DNP programs include:
Administration and Budget Planning
Clinical Diagnosis
Disease Management
Healthcare Policy
Healthcare System Transformation
Statistics
Besides the Ph.D. and DNP, students have the option of one other doctorate degree as well: the Doctor of Education (Ed.D.). This degree type is suited for academia, advocacy, and policy, and is not as widely available as the other doctorate degree pathways.
Earning a Nurse Educator Ph.D. doesn't limit you to working only in the field of education. The whole purpose of obtaining the doctorate degree in the first place is to widen your career options. Here are some popular job titles for people with this advanced credential:
Clinical Nurse Educator
Nursing Curriculum Coordinator
Nursing Education Consultant
Nursing Professional Development Specialist
Nurse Educator Ph.D., DNP, and Ed.D. programs offer a terminal degree, which means you have earned the highest degree available in the profession.
Nurse Educator Degree Type Comparison
| | | | |
| --- | --- | --- | --- |
| Degree Type | Description | Length | Typical Career Outcomes |
| MSN Nurse Educator | A Master of Science in Nursing (MSN) with a specialization in Nurse Education. | 2-3 years | Nurse educator positions in academic institutions, hospitals, and other healthcare settings. May also pursue leadership positions in nursing education. |
| Post-Master's Certificate Nurse Educator | A post-master's certificate program focused on nurse education. | 1 year or less | Designed for nurses with an MSN or DNP who want to specialize in nurse education. Can also be taken as a standalone certificate for those who already have a graduate degree in nursing. |
| DNP Nurse Educator | A Doctor of Nursing Practice (DNP) degree with a specialization in Nurse Education. | 3-4 years | Advanced nurse educator positions in academic institutions and healthcare organizations. May also pursue leadership roles in nursing education or clinical practice. |
| Ph.D. Nurse Educator | A Doctor of Philosophy (Ph.D.) in Nursing with a focus on nursing education research. | 4-5 years | Tenure-track academic positions, research roles in healthcare organizations, and leadership positions in nursing education. |
| Ed.D. Nurse Educator | A Doctor of Education (Ed.D.) with a specialization in Nursing Education. | 3-4 years | Designed for nurse educators who want to pursue leadership roles in academic institutions or healthcare organizations. May also be useful for those who want to focus on nursing education policy and advocacy. |
Note: Program lengths may vary depending on the specific institution and program. These are just general estimates.
List of Ph.D. Nurse Educator Degree Programs
In search of an online or campus-based Ph.D. Nurse Educator program near you? Explore our state-by-state listings below.
Are we missing your school's program or need to update information listed? Please contact us so we can make the necessary changes.