Nurse Educator Schools in West Virginia
Nurses who want to advance their knowledge and skills to work as nurse educators in West Virginia have limited opportunities to find a program to earn a degree in nursing education or a concentration in nursing education. Things may change in the future since there are hospitals and other medical facilities that advertise open positions for nurse educators.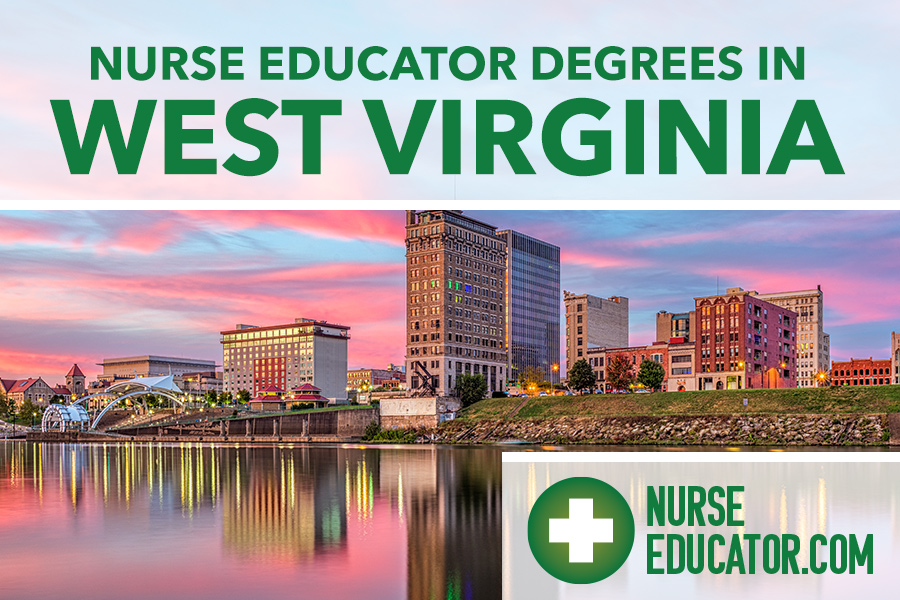 What are the Online Nursing Education Prerequisites in West Virginia?
Nurse educator students need to have unencumbered licensure to work as registered nurses in the State of West Virginia. Students need to complete the requirements for their online nurse educator program and to successfully complete any required prerequisites for the college or university that they wish to attend to earn a degree or certificate in nursing education.
Online RN to MSN Nurse Educator Programs
Marshall University offers an MSN program with the opportunity for students to choose nursing education as their area of emphasis. The Master of Science in Nursing with Nursing Education (MSN-NE) program is taught in a 100 percent online format.
The core curriculum to earn an MSN at the university consists of 12 credit hours that focus on the skills related to nursing, along with related leadership, theories, issues, and advanced nursing research. The nursing educator component consists of 21 additional hours of study. Students apply their advanced nursing knowledge to nursing education.
There is a three-hour elective component that is a part of the nursing educator program. Students choose between four options, which include:
Thesis
Role development courses in teaching
Organizational dynamics or financial strategies in administration
Elective courses related to a student's area of interest
Program graduates are eligible to sit for the exam to become nurse educators, depending on their experience.
Admission to the program is open on a rolling admission basis. Students should check with the school for priority deadlines for each semester to determine their ideal admission deadline date.
Post-Masters Certificate: Nursing Education
Marshall University also offers the Post-Master's Certificate: Nursing Education program for students who want to excel in nursing education. Students who complete the certificate may want to have an edge over their peers when seeking employment.
The program consists of 21 "area of emphasis component courses." Examples of courses include Curriculum Development in Nursing, and Computing and Instructional Design. Students also complete a six-credit hour Teaching in Nursing practicum.
Online Doctorate Nurse Educator Programs: DNP, Ph.D., or Ed.D.
There are three doctorate programs for nursing education to choose from. A Doctorate of Nursing Practice (DNP) for practicing doctors, a Doctorate of Nursing Philosophy (PhD) for doctors of research, and a Doctorate of Education (EdD) for those who wish to teach in the nursing field.
The admission requirements for applying to a doctorate program in nursing education are similar to the requirements for other nursing education programs, except that you will need to possess a master's degree before you begin.
West Virginia University has a well-known PhD program in nursing worth looking into, as well as a DNP program.
Nurse Educator Licensing and Certification in West Virginia
The West Virginia RN Board holds the responsibility for the regulation of registered nurses in the state. It performs the primary source verification for the education and training of registered nurses and advanced practice registered nurses (APRNs).
There are no specific regulation requirements listed by the West Virginia RN Board for nurse educators. The limited education sources for nursing educator programs may have some bearing on the lack of listings for nurse educators. Students still must maintain their licensure and follow all rules for timely renewal.
The state recently saw the introduction of House Bill 2961 in a regular House Legislature session. Several delegates introduced a bill to create an office of nursing education and workforce development, to address issues related to the education, recruitment, and retention of nurses in West Virginia. Perhaps the bill will help to create additional educational programs in West Virginia for nurses who want to pursue a career as nurse educators.
Who Hires Nurse Educators in West Virginia?
Nurse educators have several opportunities for employment in West Virginia. Some examples of employers who hire nurse educators in the state include:
Hospital systems
Clinics
Specialty medical facilities
Universities
Businesses
List of Nurse Educator Degree Programs in West Virginia
Ready to find an online or campus-based nurse educator degree program in West Virginia? Explore our listings to find the perfect program that matches your academic goals and career aspirations.
Wheeling, WV
316 Washington Ave
Wheeling
,
WV
26003
(304) 243-2072
Are we missing your school's program or need to update information listed? Please contact us so we can make the necessary changes.