Nurse Educator Schools in Virginia
Nurse educators are registered nurses (RNs) who transition from a nursing practice role to the role of an educator. They obtain an advanced degree and they use their expertise to train future nurses. Nurse educators in Virginia work in a variety of settings after they obtain the required licensure and education.
There are limited online nurse educator programs in the State of Virginia, but there may be other programs nearby for a registered nurse who wants to become a nurse educator. There may be more online nurse educator programs offered in Virginia in the future.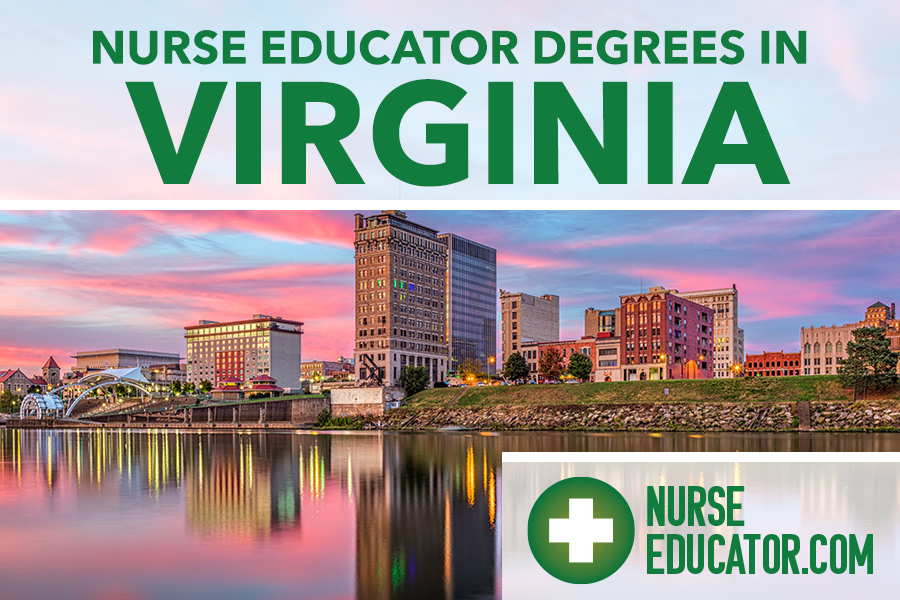 What Are the Online Nursing Education Prerequisites in Virginia?
Virginia does not have strict laws that specifically govern the education of nurse educators. One nursing education requirement is that nurse educators have advanced knowledge and experience as a registered nurse (RN).
One way that nurses obtain the advanced education and skills to have a career as a nurse educator is to complete an advanced degree or graduate certificate program. Online program options provide current registered nurses with the opportunity to complete most or all of the requirements to become a nurse educator without having to take time away from their current nursing job or family time.
Online RN to MSN Nurse Educator Programs
South University offers an online RN to MSN with a specialization as a nurse educator program. The program offers a unique opportunity for RNs who do not have a BSN to become nurse educators.
The program features "key attributes from the American Association of Colleges of Nursing (AACN) Master Essentials." Nurses in the program gain advanced skills in evidence-based practice, strategies for curriculum development, evaluation techniques, and skills to create, implement and revise nursing programs.
Students need an unencumbered registered nurse license to practice in Virginia. They need a minimum of an associate's degree in nursing from an accredited college or a diploma in nursing from an accredited nursing institution.
Online BSN to MSN Nurse Educator Programs
The lack of BSN to MSN nurse educator programs in Virginia does not mean that there will never be an online BSN to MSN program with a nurse educator specialization. Many nurses are likely to explore an alternate pathway, such as earning an MSN with a nursing educator concentration.
South University offers an online Nurse Educator MSN program. Students who hold a bachelor's degree can complete the program in as little as two years.
George Mason University also offers an online MSN, Nurse Educator Concentration for students who have current RN licensure and who hold a bachelor's degree.
Students who already hold a graduate degree may want to consider completing a graduate certificate so that they stand out among their peers when applying for a nurse educator position. Consider the Nurse Educator Certificate Online program at Old Dominion University or the Nursing Education Graduate Certificate program offered at George Mason University.
Online Doctorate Nurse Educator Programs: DNP, Ph.D., or Ed.D.
The admission requirements for entering a doctorate program in nursing education are similar to the requirements for other nursing education programs but you will be required to hold a higher degree (MSN).
There are three doctorate programs for nursing education. The first is a Doctor of Nursing Practice (DNP), which is a degree reserved for practicing doctors. There are a few DNP programs available online, including at the University of Virginia.
The second is a Doctor of Nursing Philosophy (PhD). This degree is typically for those working toward a career in nursing research. Hampton University offers a great program for this specific degree.
Some universities in some states offer online Doctor of Education (EdD) for nurse educators. Radford University is one such institution.
Nurse Educator Licensing and Certification in Virginia
The Virginia Department of Health Professions Board of Nursing regulates nurses, including RNs and LPNs, and Clinical Nurse Specialists. The Board of Nursing also regulates the "Prescriptive Authority for Nurse Practitioners."
Although the Board of Nursing does not specifically include nurse educators on its list, the agency regulates RNs, which all nurse educators must obtain before enrolling in a nurse educator program.
Nurses apply for an initial license, renew their license, and review the Virginia nursing laws and regulations on the site.
Who Hires Nurse Educators in Virginia?
Nurse educators work in many settings throughout Virginia. Some examples include:
Hospitals
Inpatient or outpatient clinics
Specialty clinics or medical facilities
Rehabilitation facilities
Businesses
Colleges and Universities
List of Nurse Educator Degree Programs in Virginia
Ready to find an online or campus-based nurse educator degree program in Virginia? Explore our listings to find the perfect program that matches your academic goals and career aspirations.
Fairfax, VA
Hampton, VA
Lynchburg, VA
Norfolk, VA
Are we missing your school's program or need to update information listed? Please contact us so we can make the necessary changes.