Nurse Educator Schools in Vermont
The small state of Vermont is a great place for nurses to live and work. Practice nursing is common, but there comes a point when some nurses feel a career change is desirable. One such change is to enter nursing education. If you are one of those nurses, this guide might help.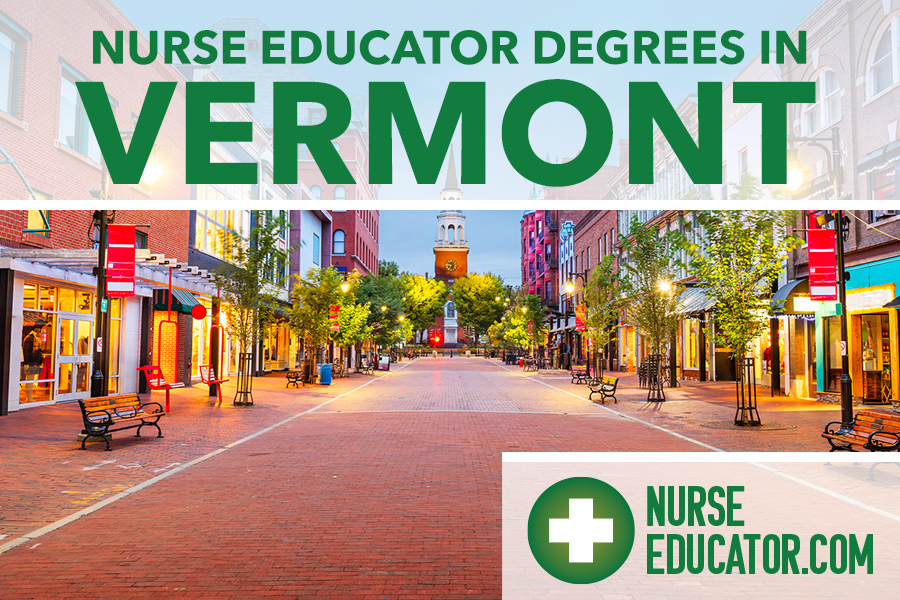 What Are the Online Nursing Education Prerequisites in Vermont?
Nursing educators across Vermont must have an accredited and relevant undergraduate nursing degree – both ADNs and BSNs are eligible. The graduate must have a current RN license too. The next step toward a career in nursing education is to complete a graduate program. Both master's (MSN)and doctorate (PhD, DNP, EdD)are allowed so long as they have an education focus.
Online BSN to MSN Nurse Educator Programs
There is one MSN Nurse Educator program in Vermont at Castleton University. Students learn health policy and law, diagnostics and treatment, technology, epidemiology, and many more.
A regionally accredited bachelor's degree in nursing
An active license (unencumbered)
A minimum GPA of 3.0 on the 4.0 scale. Those with a lower grade may be accepted so long as their last 60hrs of education is over 3.00
Undergraduate courses in research and statistics
International applicants must pass nursing and English a CGFNS
Online Doctorate Nurse Educator Programs: DNP, Ph.D., or Ed.D.
There are three doctorate programs for nursing education–a Doctor of Nursing Practice (DNP), a Doctor of Nursing Philosophy (PhD), and a Doctor of Education (EdD).
The DNP is typically for those who want to become practicing doctors, while the PhD is typically for research. The EdD is for those students who want to go on to teach, but these degrees are less common.
There are currently no online doctorate programs in Vermont for nurse educators, but there are many located in other states, such as the nursing PhD program at the University of Central Florida.
The admission requirements for entering a doctorate program in nursing education are similar to the requirements for other nursing education programs but you will be required to hold a higher degree (MSN).
Nurse Educator Licensing and Certification in Vermont
Vermont nursing educators must continue to uphold the licensing standards required at the time of application. Full-time nursing educators are not excluded.
You are strongly advised to consider becoming a Certified Nursing Educator (CNE). Certification is not mandatory for educators, but potential employers may prioritize those with it when hiring. There are currently three types:
CNE is the standard certification; it is aimed at an academic teaching
CNEcl is the type for nurses who train medical professionals
CNEn is a novice type of certification. Either of the other two types are eligible when you have under three years of experience
Certificate holders are required to continue to maintain the standards of certification, much like licensure.
Registered nursing application in Vermont costs $60 for per license by exam while the exam is $200.License by endorsement incurs a charge in this state; this costs $150. CNE is one charge in all states: $400 for NLN members and $500 for non-members.
Who Hires Nurse Educators in Vermont?
What career options are open to you have completed all steps above?
Academia: From universities and colleges teaching undergraduate and graduate students in nursing
Professional educator: From hospitals, clinics, and other medical facilities you'll teach clinicians in new skills and technology, and ongoing education
Private training: Educating support staff such as sales and administrative where they may need some nursing or other clinical knowledge
Non-profit trainer: Aid workers and other charity organizations require trainers and educators in clinical and non-clinical training
Public health: Rather than students or clinicians, you'll educate the public on their medical needs or general public awareness
List of Nurse Educator Degree Programs in Vermont
Ready to find an online or campus-based nurse educator degree program in Vermont? Explore our listings to find the perfect program that matches your academic goals and career aspirations.
Are we missing your school's program or need to update information listed? Please contact us so we can make the necessary changes.