Nurse Educator Schools in Oregon
The western state of Oregon offers plenty of opportunities for nurses to work across the board. Practice is where most nurses end up, but every year plenty switch to another equally rewarding career. One such destination is nursing education. If you're considering this career, this guide is designed to help you.
At this time, Oregon does not offer any online nursing programs, but there is a master's program that is offered on campus at Oregon Health and Science University.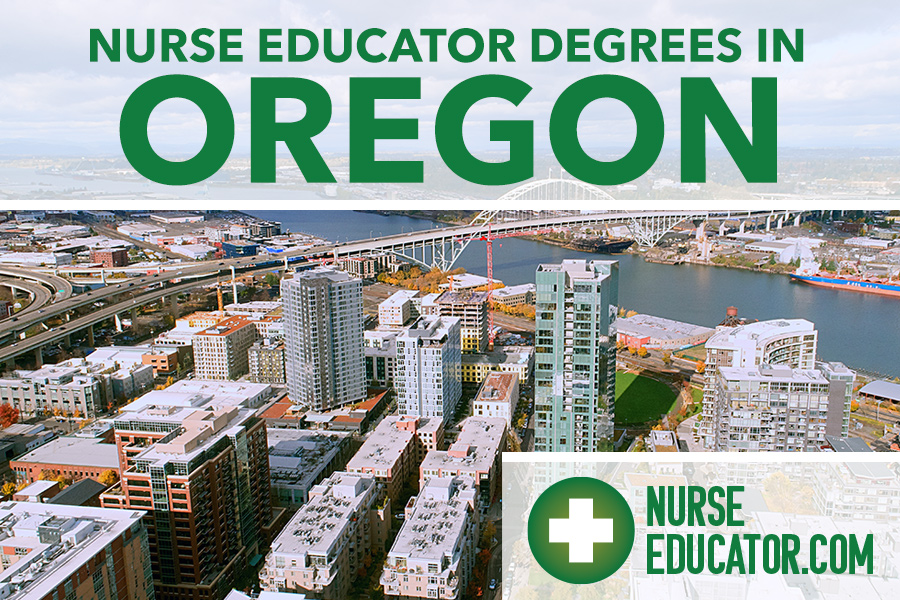 What Are the Online Nursing Education Prerequisites in Oregon?
Nursing educators in Oregon must have three things: firstly, an undergraduate degree in nursing (ADN or BSN). Secondly, a registered nursing (RN) license –even if you do not intend to work in nursing practice. Thirdly you need a graduate degree in the form of either a master's degree (MSN) in Nursing Education or a doctorate (PhD, DNP, EdD).
Nurse Educator Licensing and Certification in Oregon
Nursing educators in the state of Oregon are required to uphold all standards required for licensure. This applies to clinicians as much as it applies to full-time educators.
Also, consider CNE (Certified Nurse Educator) for your education career. Certification is a choice but can be advantageous to your career, especially in competitive areas. There are three types:
CNE is the type aimed at academic educators
CNEcl is the type aimed at professional educators – those who train existing medical professionals
CNEn is for novices in both types of fields
Holders of all CNE certifications must uphold the standards required to maintain that eligibility.
RN licensing in Oregon is $195 for license by endorsement and $160 by examination. There is also a $200 exam fee and a $9 Nursing Advancement Fund Surcharge. The CNE certification costs the same no matter the state of residence: $400 for NLN members and $500 for non-members.
Who Hires Nurse Educators in Oregon?
What career paths might you follow once graduated, licensing, and certified?
Academic teaching: Teaching nursing in schools, colleges, and universities teaching the next generation of nurses
Professional teaching: Teaching medical professionals in hospitals and clinics providing mandatory licensure ongoing training and upskilling
Private training: You'll educate support staff such as administrative, decision-making, and sales who need some medical knowledge
Non-profit trainer: Educating clinicians, support staff, and grant application specialists in a range of medical knowledge needs
Public health: Typically, public-facing with individuals or groups on their rights and available medical care, also preventive care
List of Nurse Educator Degree Programs in Oregon
Ready to find an online or campus-based nurse educator degree program in Oregon? Explore our listings to find the perfect program that matches your academic goals and career aspirations.