Nurse Educator Schools in Oklahoma
The southern state of Oklahoma is a great place to choose to work in nursing. Practice is a fine career, but sometimes professionals need a change – education is one such exciting change. You do need to follow a series of steps, however. This guide will help you navigate that.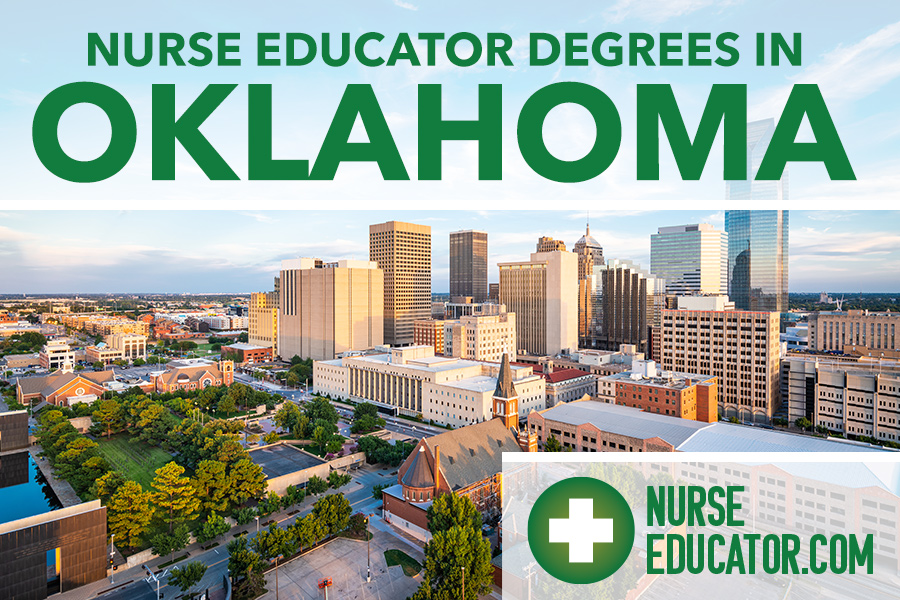 What Are the Online Nursing Education Prerequisites in Oklahoma?
Working in nursing education in Oklahoma requires that you have an undergraduate degree (ADN or BSN) and a Registered Nursing license – you need this even if you won't work in practice. Nursing educators also need a graduate degree: either a master's degree (MSN) in Nursing Education or offering an education pathway. You may also hold a doctorate (PhD, DNP, EdD).
Online BSN to MSN Nurse Educator Programs
In Oklahoma, just one university offers fully online Nursing Education (University of Oklahoma) with one other offering a hybrid program. Students learn how to teach both medical training, and administrative skills such as assessment and examinations, theory, and practice.
Regionally accredited Bachelor of Science in Nursing
A minimum 3.0 GPA on the 4.0 scale
An unencumbered Registered Nursing license
The university may request specific grades for relevant courses with statistics being among the most common
Proof of English proficiency is required for applicants from countries where English is not an official language
Nurse Educator Licensing and Certification in Oklahoma
Professional nursing educators in Oklahoma must maintain the required minimum stipulated criteria to maintain the license through the period. This applies to clinicians and educators alike.
You should also apply for CNE (Certified Nurse Educator) certification scheme. This is optional but advantageous to your career. There are three types currently:
CNE is for educators working in academic settings
CNEcl is for educators working in clinical settings training medical professionals
CNEn is for novice educators in either field. You are eligible so long as you have under three years of experience
CNE certification also requires holders to continue to uphold the entry standards for ongoing eligibility.
RN licensing in Oklahoma is $85 for application and $200 to enter the exam. If you're applying for either endorsement or examination with a multistate license, the cost is $150.CNE is one standard cost nationwide: $400 for NLN members and $500 for non-members.
Online Doctorate Nurse Educator Programs: DNP, Ph.D., or Ed.D.
There are three doctorate programs for nursing education to choose from. A Doctorate of Nursing Practice (DNP) is for practicing doctors, a Doctorate of Nursing Philosophy (PhD) is for doctors of research, and a Doctorate of Education (EdD) is for those who wish to teach in the nursing field.
The admission requirements for applying to a doctorate program in nursing education are similar to the requirements for other nursing education programs, except that you will need to possess a master's degree before you begin.
Oklahoma University has a well-known PhD program in nursing worth looking into, as well as a great DNP program.
Who Hires Nurse Educators in Oklahoma?
Available career options once you've completed all the steps above are as follows:
Academia: Working from nursing schools, colleges, and universities, you'll train the next generation of nursing professionals
Professional training: from hospitals and clinics, you'll train nurses with ongoing professional development
Private provider: Training both medical professionals and non-clinical staff in necessary medical training (for example admin and sales)
Non-profit: Nursing professionals train both clinicians and support staff, and need clinical knowledge for grant application
Public health: You will work in a public-facing role with groups or individuals educating the public on both rights and medical care available
List of Nurse Educator Degree Programs in Oklahoma
Ready to find an online or campus-based nurse educator degree program in Oklahoma? Explore our listings to find the perfect program that matches your academic goals and career aspirations.
Bartlesville, OK
Edmond, OK
Oklahoma City, OK
Graduate Certificate Programs
1100 N Stonewall Ave
Oklahoma City
,
OK
73117
(405) 271-2428
Are we missing your school's program or need to update information listed? Please contact us so we can make the necessary changes.