Nurse Educator Schools in New Mexico
Nurses in New Mexico who currently work in practice but would like to shift their career to another focus should consider nursing education as an alternative. If education is of interest to you, read on for more details about how you can enter this exciting career.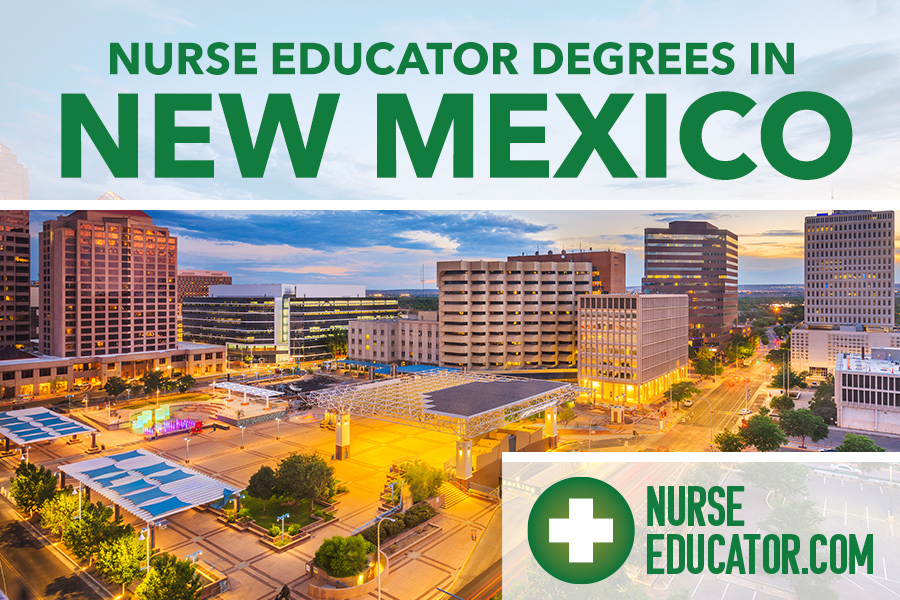 What Are the Online Nursing Education Prerequisites in New Mexico?
How do you change from practice nursing to education in New Mexico? Firstly, you will need an undergraduate degree – either an ADN or BSN are acceptable for this career. A registered Nursing license is mandatory even if you don't want to work as a clinician beyond the necessary mandated hours. Finally, you need a master's degree (MSN). Universities offer either a dedicated Nursing Education of Master of Science in Nursing or a standard Nursing MSN with an education path.
Online BSN to MSN Nurse Educator Programs
New Mexico has two BSN to MSN Nurse Educator programs – one of which is hybrid, and the other (Eastern New Mexico University) is fully online. Students learn the teaching of diagnostics and treatment, assessment skills, and matters related to the curriculum. Your entry requirements are usually:
A regionally accredited BSN
Official transcripts
Unencumbered in-date RN license – send a copy
A minimum GPA of 3.0
Application letter
Non-native English speakers are required to pass a language proficiency test and send the scores
Online Doctorate Nurse Educator Programs: DNP, Ph.D., or Ed.D.
The admission requirements for entering a doctorate program in nursing education are similar to the requirements for other nursing education programs but you will be required to hold a higher degree (MSN).
There are three doctorate programs for nursing education. The first is a Doctor of Nursing Practice (DNP), which is a degree reserved for practicing doctors. There are a few DNP programs available online, including at New Mexico State University.
The second is a Doctor of Nursing Philosophy (PhD). This degree is typically for those working toward a career in nursing research. The University of New Mexico offers a great program for this specific degree.
Some universities in some states offer online Doctor of Education (EdD) for nurse educators, but New Mexico does not offer any such programs at this time.
Nurse Educator Licensing and Certification in New Mexico
Nursing educators in New Mexico must maintain all standards for ongoing licensure even if the intent is to work full-time as an educator.
Also, consider non-mandatory professional certification for your work as an educator. CNE can benefit your career and some employers prefer it. The three types are:
CNE: For academic professionals in colleges and universities
CNEcl: For educators of clinical professionals in hospitals and clinics
CNEn: For novices of the other two categories. You may apply with under three years of experience in either field
Certification also requires you to adhere to some eligibility standards throughout.
RN licensing in New Mexico is $150 for the exam, $60 for the reexamination, and $150 for endorsement. Those from compactor states don't need to apply. The renewal cost is $110. CNE cost is $400 for NLN members and $500 for non-members, as it is in all states.
Who Hires Nurse Educators in New Mexico?
The roles you might find available to you in New Mexico once you have qualified include:
Academia: US colleges and universities need advanced teaching staff to educate new nurses and graduate students
Professional: Instead of formal education, you'll train professional nurses and other clinicians with ongoing skills development needs
Private training provision: You may train medical professionals, but this may also include support staff who need some medical knowledge
Charity: The non-profit sector employs both medical and non-medical staff who may need a wide variety of training types
List of Nurse Educator Degree Programs in New Mexico
Ready to find an online or campus-based nurse educator degree program in New Mexico? Explore our listings to find the perfect program that matches your academic goals and career aspirations.
Albuquerque, NM
Portales, NM
Are we missing your school's program or need to update information listed? Please contact us so we can make the necessary changes.