Nurse Educator Schools in New Jersey
Nurses in the state of New Jersey have plenty of career options outside of clinical practice. If you're considering a career change, one of the most exciting steps you might consider is nursing education. If you're thinking about this new career, this guide can help you navigate it.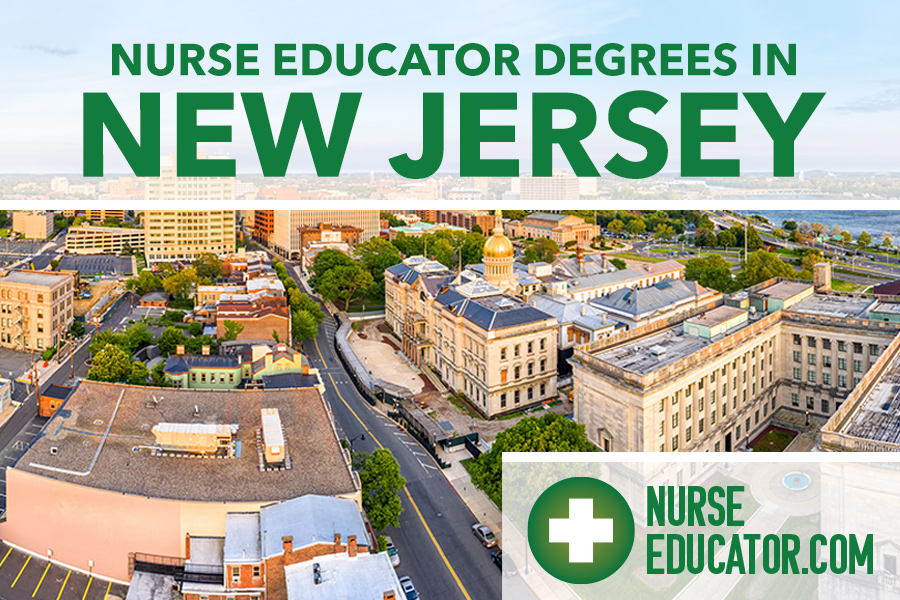 What Are the Online Nursing Education Prerequisites in New Jersey?
A nursing education career in New Jersey will require several steps from you. You must have a relevant undergraduate degree – this can be an ADN or a BSN. RN license is also mandatory. The next step is a Master of Science in Nursing, this can be a standard master's degree with an education pathway or a dedicated education degree.
Online RN to MSN Nurse Educator Programs
New Jersey has a small number of Nurse Educator programs, and most are available online, such as the one at William Patterson University. Students will learn diagnostics and treatment, procedure, law and ethics, and assessment.
Entry requirements are:
Accredited Associate's Degree
Unencumbered RN license which is in date
Criminal background check
A minimum GPA of 3.0
Non-native English speakers must demonstrate relevant language proficiency
Online BSN to MSN Nurse Educator Programs
New Jersey has a handful of BSN to MSN programs offering a Nursing Educator pathway, such as Ramapo College. Students learn a range of skills in teaching diagnostic and treatment skills, but also developmental and organizational. These programs have a minimum entry requirement list which typically includes:
An accredited BSN which should include transcripts
Application form and fees, plus resume
Unencumbered current RN license
A minimum GPA of 3.0 on the 4.0 scale
A personal statement
Online Doctorate Nurse Educator Programs: DNP, Ph.D., or Ed.D.
There are three doctorate programs for nursing education to choose from. A Doctorate of Nursing Practice (DNP) for practicing doctors, a Doctorate of Nursing Philosophy (PhD) for doctors of research, and a Doctorate of Education (EdD) for those who wish to teach in the nursing field.
The admission requirements for applying to a doctorate program in nursing education are similar to the requirements for other nursing education programs, except that you will need to possess a master's degree before you begin.
Seton Hall University has a well-known PhD program in nursing worth looking into, as well as Rutgers University DNP program. For those interested in an online EdD in nursing program, there is a good one at Rowan University.
Nurse Educator Licensing and Certification in New Jersey
Professional nursing educators in New Jersey must ensure that they keep up the standards required of a nursing license even if they intend to maintain only the minimum number of practice hours.
You should also consider professional certification. The CNE is not obligatory to work as an educator, but you may find some employers prefer it. There are three types:
CNE: This type is for educators in academia
CNEcl: This type is for educators of clinicians for ongoing training and upskilling
CNEn: This type is for novices of both categories – anyone with less than three years of experience
The CNE will also require you to adhere to a list of qualifying standards much like the RN license.
RN licensing in New Jersey is $80 for the application,$120 for the license, and a further $200 for the examination. The endorsement cost is a $200 application fee and $58.69 for fingerprint checks. All renewals cost $120. CNE is the same cost across the US: $400 for NLN members and $500 for non-members.
Who Hires Nurse Educators in New Jersey?
There are many career options to explore as a nursing educator:
Academia: Teaching the next generation of nursing professionals in US colleges and universities
Professional development: Teaching working professionals to improve their ongoing skills or for mandatory licensure requirements
Private training contractor: You could train medical professionals, but this career can also involve non-clinical staff where some medical knowledge may be needed (such as sales)
Charity training: Educating aid workers – both with clinical practice and support – who need training in the course of their job
Public health: Outreach or other similar public-facing roles are vital in educating the general public
List of Nurse Educator Degree Programs in New Jersey
Ready to find an online or campus-based nurse educator degree program in New Jersey? Explore our listings to find the perfect program that matches your academic goals and career aspirations.
Mahwah, NJ
Teaneck, NJ
Trenton, NJ
Wayne, NJ
West Long Branch, NJ
Are we missing your school's program or need to update information listed? Please contact us so we can make the necessary changes.