Nurse Educator Schools in Nebraska
If you're working as a nurse in Nebraska and considering a shift in your career focus, one potential new career is teaching the next generation of registered nurses. Nebraska has opportunities for you to explore becoming a nurse educator across the universities and hospitals of the state. Read on for more information.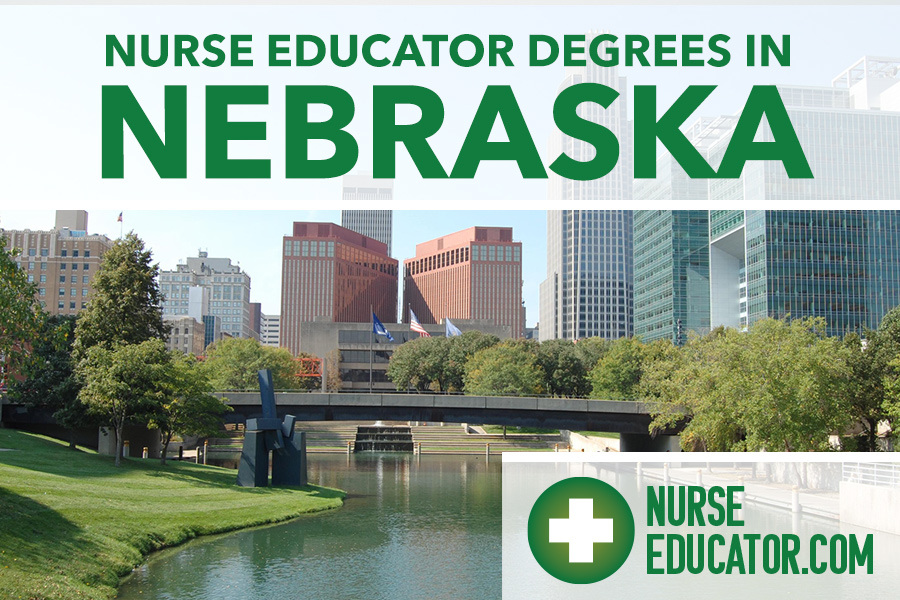 What Are the Online Nursing Education Prerequisites in Nebraska?
A career in nursing education in Nebraska is possible as long as you meet certain requirements. Firstly, you need a dedicated undergraduate nursing degree and RN license. The degree can be an ADN or BSN. If you currently work as a practice nurse, you should already have these. Next, you need a minimum of a master of science in nursing, particularly one with a concentration in nursing education.
Online RN to MSN Nurse Educator Programs
Nebraska has a handful of RN to MSN Nurse Educator programs and MSNs with an educator pathway. Students learn a range of skills including leadership, curriculum development, teaching and assessment.
Regionally accredited associate degree and RN license
A GPA of 3.0
Selected courses will have a minimum C grade
A current and unencumbered RN license
A minimum of one-year clinical work experience
Online BSN to MSN Nurse Educator Programs
Nebraska has several BSN to MSN Nurse Educator programs, and a couple of hybrid offerings. Students learn professional skills, education and assessment, and curriculum assessment.
A regionally accredited bachelor's degree in nursing (BSN)
Some courses will have a minimum entry grade for acceptance
A GPA of 3.0; include transcripts
A current, unencumbered RN license
Non-native English speakers are required to submit test scores for language proficiency
Entry essay may be required
Online Doctorate Nurse Educator Programs: DNP, Ph.D., Ed.D.
Doctorate degree programs in nursing education are advanced degrees that prepare individuals for leadership roles in the healthcare field. In Nebraska, there are several universities that offer doctorate programs in nursing education, including the Doctor of Nursing Practice (DNP), Doctor of Philosophy (Ph.D.), and Doctor of Education (Ed.D.). These programs are designed to provide students with the knowledge and skills necessary to become experts in nursing education, research, and practice.
Several universities in Nebraska offer online versions of their doctorate degree programs in nursing education. For example, the University of Nebraska Medical Center offers an online DNP program that is designed for working professionals who wish to advance their knowledge and skills in nursing practice. Additionally, the University of Nebraska-Lincoln offers an online Ed.D. in Nursing Education, which is designed for experienced nurses who wish to pursue a career in nursing education.
Overall, doctorate degree programs in nursing education offer students the opportunity to advance their knowledge and skills in nursing practice, research, and education. With the availability of online programs, students can now pursue these degrees from the comfort of their own homes while continuing to work in their current roles.
Nurse Educator Licensing and Certification in Nebraska
Nursing educators based in Nebraska are required to keep up any and all standards to maintain eligibility for the Registered Nursing license, even if they do not intend to pursue nursing practice beyond the minimum.
Consider certification to aid your career progress. CNE certification is not mandatory. There are three types:
CNE: This first type is for those working in academia
CNEcl: This second type is for educators intending to train clinical staff (upskilling, mandatory ongoing training)
CNEn: This is a novice certification for both of the other types listed here. You are eligible while you have under three years of experience
Much like the license, you must adhere to eligibility criteria to be allowed to continue certification.
RN licensing in Nebraska is $123 for the application, $200 examination fee, and $45.25 for criminal background checks. License by endorsement is $123, as is the cost of renewal. CNE is the same cost regardless of which state you are in: $400 for NLN members and $500 for non-members.
Who Hires Nurse Educators in Nebraska?
Your career options are as follows once you have achieved all the above necessary steps:
Academic teaching: You will work in formal education (colleges and universities) teaching undergraduate and graduate students. This may also mean research responsibilities
Professional education: You will work from hospitals and clinics providing ongoing education for medical professionals – legally mandated ongoing training
Private training provider: While you may teach clinicians, this type of role also trains non-clinical staff in the medical profession
Charity training: Training medical and medical support, you may also work in engagement for public health issues, aid workers, and advocacy
List of Nurse Educator Degree Programs in Nebraska
Ready to find an online or campus-based nurse educator degree program in Nebraska? Explore our listings to find the perfect program that matches your academic goals and career aspirations.
Lincoln, NE
EdD ProgramsGraduate Certificate ProgramsMSN Programs
5035 Everett Street
Lincoln
,
NE
68506
(402) 481-3801
MSN ProgramsGraduate Certificate Programs
5000 Saint Paul Avenue
Lincoln
,
NE
68504
(402) 465-2329
Omaha, NE
Graduate Certificate ProgramsMSN Programs
101 S. 42 Street
Omaha
,
NE
68131
(402) 552-3100
Are we missing your school's program or need to update information listed? Please contact us so we can make the necessary changes.