Nurse Educator Schools in Mississippi
Practice nurses in the state of Mississippi have plenty of opportunities to broaden their career in an exciting new career. One such destination is nursing education. If you're currently exploring your new career options toward education, this guide should be of benefit to you.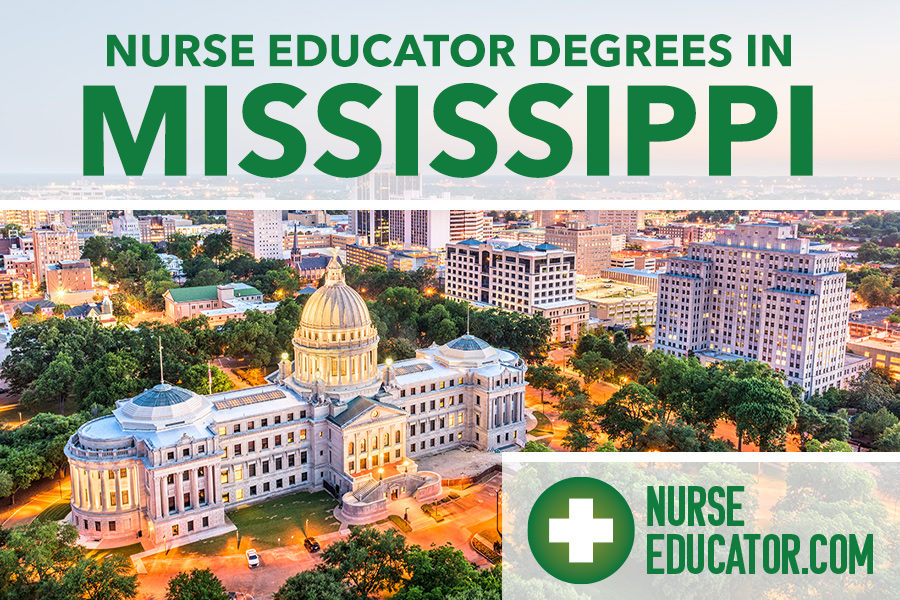 What Are the Online Nursing Education Prerequisites in Mississippi?
To work as a nursing educator in Mississippi, an undergraduate degree is mandatory (ADN or BSN in nursing are both acceptable). You will also need a nursing license much like you would in practice. A master's degree (MSN) is next, and this too is mandatory. It can be in Nursing Education, or a standard MSN with an education pathway. Doctorate graduates(DNPs, PhDs, and EdDs where available) are also eligible and sometimes preferred.
Online RN to MSN Nurse Educator Programs
Mississippi currently has one RN to MSN Nurse Educator program at the University of Mississippi. Students will learn healthcare leadership, advanced health assessment, teaching skills, assessment, and curriculum.
A regionally accredited associate degree
A GPA of 3.0 on the 4.0 scale
A minimum C grade in all prerequisite courses
A current, unencumbered, and unrestricted RN license
A minimum of one-year clinical experience
Any previous dismissal from a similar program must have been over a year prior
Online BSN to MSN Nurse Educator Programs
Mississippi has one BSN to MSN Nurse Educator program. In February 2023, the program is under review but still offered. No course offerings are currently listed.
A regionally accredited bachelor's degree in nursing (BSN)
A GPA of 3.0; send transcripts as proof
Maintain a grade of 3.0 throughout
Take an entrance exam: HESI FNP with a minimum score of 800. APEA Post Predictor University Exam pass with 70% or more. A written comprehensive examination with a score of 83 or more
A current, unencumbered RN license
Online Doctorate Nurse Educator Programs: DNP, Ph.D., or Ed.D.
There are three doctorate programs for nursing education to choose from. A Doctorate of Nursing Practice (DNP) for practicing doctors, a Doctorate of Nursing Philosophy (PhD) for doctors of research, and a Doctorate of Education (EdD) for those who wish to teach in the nursing field.
The admission requirements for applying to a doctorate program in nursing education are similar to the requirements for other nursing education programs, except that you will need to possess a master's degree before you begin.
The University of Southern Mississippi has a well-known PhD program in nursing worth looking into, as well as the University of Mississippi's DNP program.
Nurse Educator Licensing and Certification in Mississippi
Nurse educators in Mississippi must hold an RN license and adhere to all requirements to maintain that eligibility, even if they do not intend to practice nursing beyond that minimum eligibility.
You may also apply for optional certification as a nurse educator. You are strongly advised to get certified for your career options. Three types are available:
CNE: this is for academic teaching professionals
CNEcl: this is for clinical teachers (training medical professionals)
CNEn: this is for novices of the other two types of nursing certificate
This certification also has a list of expectations you must adhere to be eligible for renewal.
RN licensing in Mississippi is $100 for the application and $200 for the examination. You must also pay a $75 background check fee. License by endorsement applicants pays only the $100 application fee. CNE is the same cost across the US:$500 for non-members of NLN and $400 for members.
Who Hires Nurse Educators in Mississippi?
What career pathways might you enter once you have graduated and followed all the above steps?
Academic education: Schools, colleges, and universities in the US employ nursing educators in formal education positions. May also include research responsibilities
Professional education: Instead of universities, you'll work from hospitals and clinics. Your job will be to provide ongoing training to working clinical professionals
Private training: Working for a dedicated private provider, you may work in training medical professionals, or training support staff and sales
Charities: You can work for aid agencies training both medical professionals and support, or in public health outreach, among other things.
List of Nurse Educator Degree Programs in Mississippi
Ready to find an online or campus-based nurse educator degree program in Mississippi? Explore our listings to find the perfect program that matches your academic goals and career aspirations.
Cleveland, MS
Hattiesburg, MS
Jackson, MS
Lorman, MS
Are we missing your school's program or need to update information listed? Please contact us so we can make the necessary changes.