Nurse Educator Schools in Minnesota
Every year, many practice nurses in the state of Minnesota change careers within their field. One such critical area is nursing education. If you're considering this change, then this guide is for you. We'll explain what you need to do to work in an exciting new area of the medical profession.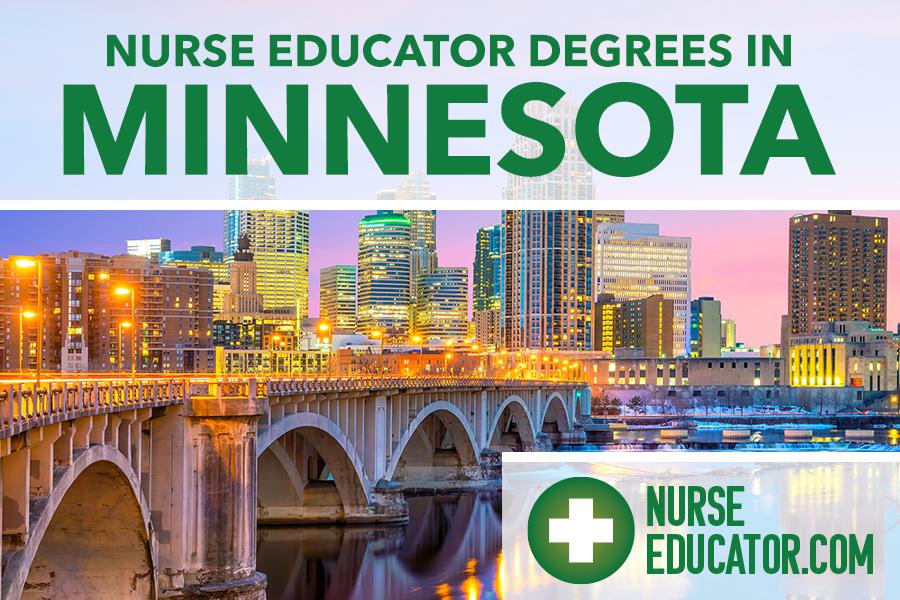 What Are the Online Nursing Education Prerequisites in Minnesota?
To work as a nursing educator in Minnesota, you'll need a bachelor's degree (ADN or BSN in nursing) and a registered nursing license just as you would for practice. The next step is to study for a master's degree (MSN) either in nursing education, or a standard MSN that offers an education concentration, such as the program at Southwest Minnesota State University. Doctorates (DNPs, PhDs, and EdDs where available) are also acceptable to work as educators and sometimes even preferred.
Online RN to MSN Nurse Educator Programs
Minnesota has one nurse educator program at Southwest State Minnesota College. Students will learn diagnostics and treatment, procedure, law and ethics, and assessment.
Entry requirements are:
Accredited Associate's Degree
Unencumbered RN license which is in date
Criminal background check
A minimum GPA of 3.0
Non-native English speakers must demonstrate relevant language proficiency
Online BSN to MSN Nurse Educator Programs
Minnesota has several online MSN Nurse Educator programs. Students will learn teaching evidence-based practice, assessment, curriculum development, and much more.
A regionally accredited nursing bachelor's degree (BSN)
A GPA of 3.0; send transcripts
Schools may ask for grades from specific courses
A current, unencumbered RN license
Adhere to immunization policy
Online Doctorate Nurse Educator Programs: DNP, Ph.D., or Ed.D.
There are three doctorate programs for nursing education–a Doctor of Nursing Practice (DNP), a Doctor of Nursing Philosophy (PhD), and a Doctor of Education (EdD).
The DNP is typically for those who want to become practicing doctors, while the PhD is typically for research. The EdD is for those students who want to go on to teach, but these degrees are less common.
Two great examples of Minnesota online programs for these specific degrees are both the PhD program and the DNP program at the University of Minnesota.
The admission requirements for entering a doctorate program in nursing education are similar to the requirements for other nursing education programs but you will be required to hold a higher degree (MSN).
Nurse Educator Licensing and Certification in Minnesota
Nurse educators in Minnesota are required to both hold an RN license and maintain all minimum requirements of the board. This remains in place even if you don't wish to work in clinical or other types of practice nursing.
Certification for nursing education is not mandatory, however, professionals are strongly advised to get certified. There are currently three types:
CNE: type one is for those working in academia
CNEcl: type two is for those working in teaching clinicians
CNEn: the third is the novice certificate for those with under three years of experience in their respective fields
Like licensure, the certification has a list of minimum requirements to maintain throughout certification.
RN licensing in Minnesota costs $105 for the application and $200 for the exam fees. You must also pay a $33.25 criminal background check fee. License by endorsement applicants must pay the application and background check fees only. Renewals are $85. CNE costs the same no matter where you are in the US: $500 for non-members of NLN and $400 for members.
Who Hires Nurse Educators in Minnesota?
What job roles are available once you have graduated and received a license and certification?
Academia: Colleges and universities employ nursing educators to teach undergraduates and postgraduate students
Professional: Working at medical facilities like hospitals, you'll provide ongoing education and upskilling to clinicians
Private training: While you may be involved in teaching professionals, you may also train non-clinical staff such as admin and sales
Non-profit: Aid agencies, public outreach, public health advisory, funding advocates, and much more need trained nurses with education skills
List of Nurse Educator Degree Programs in Minnesota
Ready to find an online or campus-based nurse educator degree program in Minnesota? Explore our listings to find the perfect program that matches your academic goals and career aspirations.
Minneapolis, MN
Henrietta Schmoll School of Health
601 25th Avenue South
Minneapolis
,
MN
55454
(651) 690-6000
Moorhead, MN
Graduate Certificate ProgramsMSN Programs
1104 7th Avenue South
Moorhead
,
MN
56563
(180) 059-3724 x6
Rochester, MN
Graduate Certificate ProgramsMSN Programs
859 30th Ave SE
Rochester
,
MN
55904
(507) 285-7100
Are we missing your school's program or need to update information listed? Please contact us so we can make the necessary changes.