Nurse Educator Schools in Maryland
The state of Maryland has plenty of opportunities for nurses. If you currently work as a practice nurse in any field and considering stepping up to nursing education, now is a great time to do it in the state. This guide will help you through the process of becoming a nursing educator.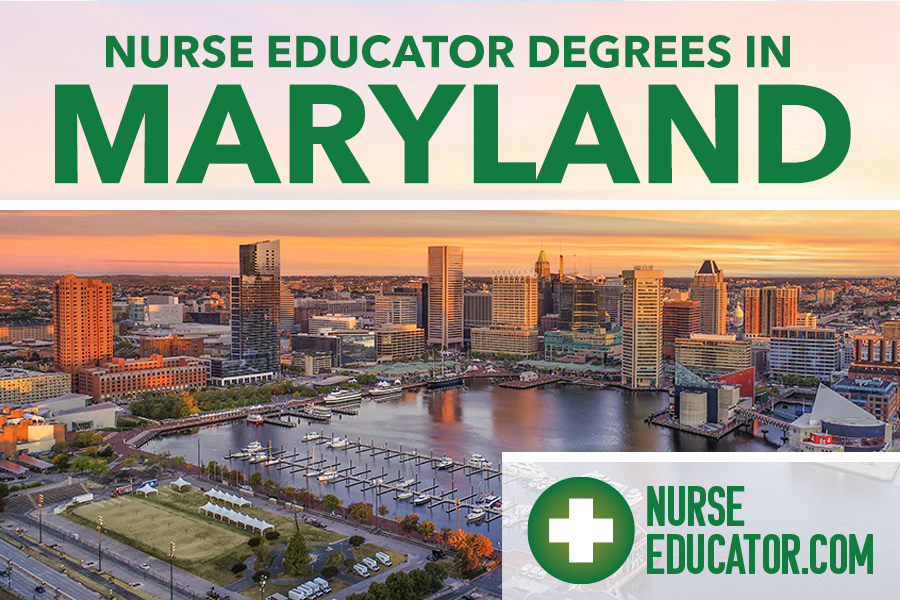 What Are the Online Nursing Education Prerequisites in Maryland?
If you wish to pursue a career as a nursing educator in Maryland, a nursing undergraduate degree (ADN or BSN) is mandatory. You also need both an RN license and a relevant Master of Science in Nursing (MSN) either dedicated to education or with an education pathway choice. Many nursing educators also have doctorates (PhDs, DNPs, and EdDs).
Online RN to MSN Nurse Educator Programs
Maryland has a small number of nurse educator programs, and most are available online, such as the one at the University of Maryland. Students will learn diagnostics and treatment, procedure, law and ethics, and assessment.
Entry requirements are:
Accredited Associate's Degree
Unencumbered RN license which is in date
Criminal background check
A minimum GPA of 3.0
Non-native English speakers must demonstrate relevant language proficiency
Online BSN to MSN Nurse Educator Programs
Maryland currently has no online BSN to MSN Nurse Educator programs, but several campus-only options including Salisbury University. Should you decide to go with an on-campus option, here are some admission requirements for you to consider:
A regionally accredited BSN
Unencumbered in-date RN license
A minimum GPA of 3.0
There may be specified courses required for entry with stipulated minimum grades
Non-native English speakers must submit relevant language proficiency test scores
Online Doctorate Nurse Educator Programs: DNP, Ph.D., or Ed.D.
There are three doctorate programs for nursing education–a Doctor of Nursing Practice (DNP), a Doctor of Nursing Philosophy (PhD), and a Doctor of Education (EdD).
The DNP is typically for those who want to become practicing doctors, while the PhD is typically for research. The EdD is for those students who want to go on to teach, but these degrees are less common.
If you're looking for a doctorate in nursing, Maryland has a few options for online learning. For PhDs in nursing, take a look at the University of Maryland's program. They also have a great DNP program.
The admission requirements for entering a doctorate program in nursing education are similar to the requirements for other nursing education programs but you will be required to hold a higher degree (MSN).
Nurse Educator Licensing and Certification in Maryland
Nurse educators in Maryland must follow mandatory steps to qualify and to remain licensed to continue to work in that field. You will still need an RN license, even if you don't intend to practice beyond the minimum number of required hours.
Nursing education certification is also available. While it is not mandatory, nursing educators are strongly advised to seek certification:
The standard CNE type is for academic educators
The CNEcl type is for educators of professionals such as clinicians needing to upskill
The CNEn type is for novice nurse educators operating in either of the two above areas
Like the license, certification also has a set of minimum required standards to maintain to remain eligible.
RN licensing in Maryland costs $100 for the application fee and a $200 examination fee. Endorsement also costs $100 while renewal costs $136 every two years depending on the year of birth. CNE is a standard cost: $500 for non-members of NLN and $400 for NLN members.
Who Hires Nurse Educators in Maryland?
What are your career options once you are graduated and licensed?
Academia: Working in US colleges and universities teaching the new generation of nursing undergraduates and graduate students. Other academic responsibilities may also apply
Professional teaching: Instead of universities, you will teach from hospitals to working professionals – clinical skills, procedures, and technical
Private training: Working for an independent training provider, you will educate medical and non-medical professionals such as administrative and sales
Non-profit: This sector trains aid agencies and professionals, but also lobbies the government and other decision-makers. May also be involved in public health outreach
List of Nurse Educator Degree Programs in Maryland
Ready to find an online or campus-based nurse educator degree program in Maryland? Explore our listings to find the perfect program that matches your academic goals and career aspirations.
Baltimore, MD
Bowie, MD
Salisbury, MD
Takoma Park, MD
Are we missing your school's program or need to update information listed? Please contact us so we can make the necessary changes.