Nurse Educator Schools in Hawaii
Hawaii is a great place to work as a practice nurse. It's also a great place to teach nursing to new medical professionals and upskill practice nurses. For this career, you need to study a graduate program in nursing education, such as Hawaii Pacific University's MSN program. This is how you go about entering this exciting new career.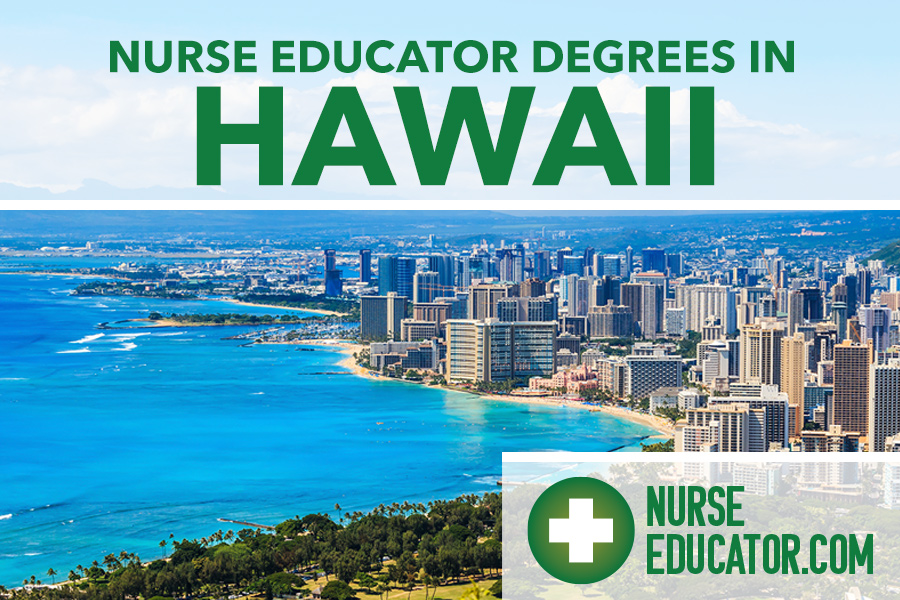 What Are the Online Nursing Education Prerequisites in Hawaii?
As with practice nursing, you'll need an undergraduate degree (associate or bachelor's) and a Registered Nursing license. You will also need a relevant graduate program – either a dedicated MSN in Nursing Education or a straight MSN with an Educator pathway. Doctorates are also available (these can be Ph.D., DNP, or an education doctorate – the Ed.D.).
Online BSN to MSN Nurse Educator Programs
There are several opportunities to study a Nursing MSN (educator pathway) in Hawaii. Students will cover preventive medicine, nursing care, assessment, and curriculum, among other things. Eligibility will typically include these:
A minimum cumulative GPA of 3.0 on the 4.0 scale; send transcripts as proof
Already completed your BSN
Application form and resume
Three completed recommendation forms. Clinical recommendations preferred
An active and unencumbered RN license
Immunization record
Online Doctorate Nurse Educator Programs: DNP, Ph.D., or Ed.D.
The admission requirements for entering a doctorate program in nursing education are similar to the requirements for other nursing education programs, but you must hold an MSN to be eligible.
There are three doctorate programs for nursing education. The first is a Doctor of Nursing Practice (DNP), which is a degree reserved for practicing doctors. A few DNP programs are available online, including at the University of Hawaii.
The second is a Doctor of Nursing Philosophy (PhD). This degree is typically for those working toward a career in nursing research. The University of Hawaii also offers a great program for this specific degree.
Some universities in some states offer online Doctor of Education (Ed.D.) for nurse educators, however, Hawaii doesn't have an online option for this degree.
Nurse Educator Licensing and Certification in Hawaii
An RN license is mandatory even if you intend to work as a nurse educator full-time and do not intend to practice beyond stipulated requirements. An accredited graduate degree in nursing education is also mandatory as a minimum.
Certification is available in three types. What you need depends on your prospective career path:
The standard CNE certification is for academic staff
There is a clinical CNEcl for those educating working medical professionals
The novices CNEn certification is aimed at the newly qualified for both of the above so long as you have less than three years of experience
A current and unencumbered RN license is also required as a prerequisite for CNE certification, along with several other stipulations covering ongoing education and minimum contact hours.
RN licensing in Hawaii costs $40 for the application and $200 for the exam. License by endorsement is $234 from July 1st of an odd-numbered year and June 30th of an even-numbered year and $166 between July 1st of an even-numbered year and June 30th of an odd-numbered year. CNE always costs the same: $400 for NLN members and $500 for non-members.
Who Hires Nurse Educators in Hawaii?
Career doors you could enter with this type of qualification include:
Colleges and universities: here, you'll be teaching new nursing undergraduates and also graduate, depending on your skills. You may also engage in academic research
Professional education: Working in hospitals and clinics managing training and ongoing education for medical professionals
Private training: Working for agencies or specialist educators, you may train medical professionals or support staff on a range of technologies, legal and regulatory issues, and interpersonal communication
Charities: Public health in the US and abroad, working with aid agencies, or simply as an advocate educating and informing decision-makers
List of Nurse Educator Degree Programs in Hawaii
Ready to find an online or campus-based nurse educator degree program in Hawaii? Explore our listings to find the perfect program that matches your academic goals and career aspirations.