Nurse Educator Schools in Colorado
If you're currently operating as a registered nurse in Colorado, now may be the time to consider stepping up to become a nurse educator. You have several routes to achieve this depending on your current background and how you might set out to achieve that next step. One such option is a BSN to MSN program at Colorado Technical University.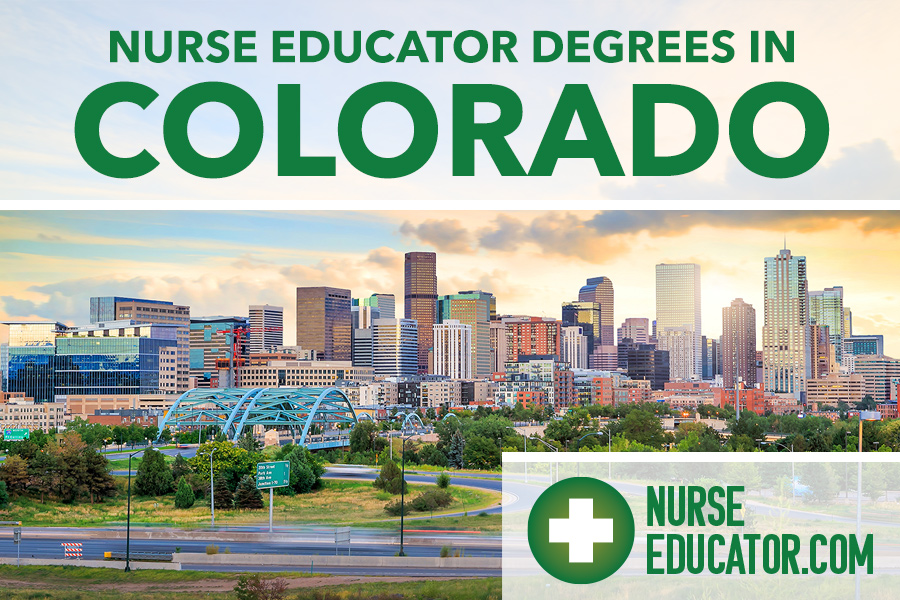 What Are the Online Nursing Education Prerequisites in Colorado?
To enter a career as a nurse educator in Colorado, there are several steps to follow. Typically, this is multiple years of practice as a registered nurse after qualifying with a BSN or ADN. Nurse educators, however, need an advanced degree such as an MSN or one of two doctorates (PhD or DNP) or where available, a Doctor of Education in nursing (EdD).
Online BSN to MSN Nurse Educator Programs
BSN graduates have great opportunities in Colorado to study Nursing Education MSNs. There is currently one option in the state. Students will study a variety of subjects including theory, practice, technology, pharmacology, teaching strategies, and more. Entry requirements are:
A relevant Regionally accredited BSN
Minimum cumulative GPA of 3.0 on a 4.0 scale
Send transcripts
Current RN license (unencumbered); submit your NCLEX-RN score as proof
Online Doctorate Nurse Educator Programs: DNP, Ph.D., or Ed.D.
There are three doctorate programs for nursing education to choose from. A Doctorate of Nursing Practice (DNP) for practicing doctors, a Doctorate of Nursing Philosophy (PhD) for doctors of research, and a Doctorate of Education (EdD) for those who wish to teach in the nursing field.
The admission requirements for applying to a doctorate program in nursing education are similar to the requirements for other nursing education programs, except that you will need to possess a master's degree before you begin.
The University of Colorado has a well-known PhD program in nursing worth looking into, as well as a DNP program.
Nurse Educator Licensing and Certification in Colorado
First, you'll need an RN license and provide proof that you passed the relevant exam. The next step is a relevant master's degree – either a dedicated MSN in nursing education or an MSN with an education pathway.
There are currently three available CNE certificates available. They are advisory, not mandatory:
CNE certification is for academic educators
CNEcl certification is for clinical educators. You should have a minimum of two years of practice and three years of education experience to apply
CNEn certification is for novice nurse educators with less than three years of experience
All requirements for maintaining RN license eligibility are still required even if you will not work as a practice nurse.
RN licensing in Colorado costs $88 for the application fee and $200 exam fee. Additional fees include a $45 IV Authority application fee and a $43 endorsement fee (these last two are optional). CNEs costs are $400 for NLN members and $500 for those who are not members.
Who Hires Nurse Educators in Colorado?
Your career choices include but are not limited to:
Academic education: You may work as a lecturer and researcher teaching undergraduates and grad students
Professional and continuing education: Providing training in clinical settings on a range of clinical and procedural issues
Private sector providers: clinical and non-clinical education, plus education on administrative and other supporting services
Charities: The third sector works as a lobby group, for public outreach and awareness, or education policymakers on health decisions, and training those on the front line
List of Nurse Educator Degree Programs in Colorado
Ready to find an online or campus-based nurse educator degree program in Colorado? Explore our listings to find the perfect program that matches your academic goals and career aspirations.
Colorado Springs, CO
Denver, CO
Greeley, CO
Loveland, CO
Pueblo, CO
Are we missing your school's program or need to update information listed? Please contact us so we can make the necessary changes.