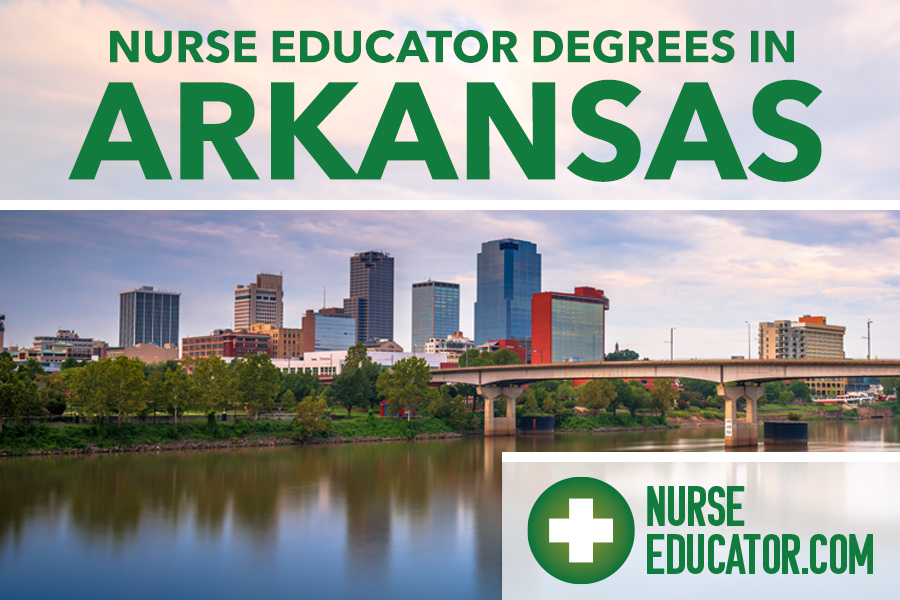 What Are the Online Nursing Education Prerequisites in Arkansas?
To work as a nurse educator in Arkansas, you will need a relevant nursing degree. These are ADNs (Associate Degree in nursing) or BSN (Bachelor of Science in nursing). You are also required to have passed the NCLEX-RN before application. Then you need a graduate program such as an MSN or doctorate (PhD or DNP).
However, you may find some institutes provide specific EdDs in nursing education.
Online BSN to MSN Nurse Educator Programs
There are several options to study for a BSN to MSN that will enable you to work as a nurse educator in Arkansas. You will learn practice and ethics, theory, and leadership among other things. To be eligible, you will need:
Complete the application online
Regionally accredited Bachelor of Science in Nursing (BSN)
GPA of 3.0 on a 4.0 scale; include transcripts
Unencumbered RN license
Submit your NCLEX-RN score before the end of semester one
Background checks
Online Doctorate Nurse Educator Programs: DNP, Ph.D., or Ed.D.
The admission requirements for entering a doctorate program in nursing education are similar to the requirements for other nursing education programs but you will be required to hold a higher degree (MSN).
There are three doctorate programs for nursing education. The first is a Doctor of Nursing Practice (DNP), which is a degree reserved for practicing doctors. There are a few DNP programs available online, including at the University of Arkansas.
The second is a Doctor of Nursing Philosophy (PhD). This degree is typically for those working toward a career in nursing research. The University of Arkansas is the only place in Arkansas that offers a program for this specific degree.
Some universities in some states offer online Doctor of Education (EdD) for nurse educators. Currently, there are no such programs offered online in Arkansas.
Nurse Educator Licensing and Certification in Arkansas
You will need a registered nursing license to practice as a nursing educator in the state of Arkansas, which also requires an RN license. Also, consider your certification options of which there are three choices depending on where you intend to work:
The CNE is for those working in a college or university teaching nursing
The CNEcl is for clinical educators requiring two years of experience as a minimum
TheCNEn is for novices to nursing education, aimed at those with less than three years of experience
You are required to keep up to date with your registered nursing license to continue to practice as an RN. Similarly, CNE requires that you maintain certain ongoing education for your certification, such as workshops and other events.
An RN license in Arkansas is free initially. There are charges for a license by certification or exam ($100) or by endorsement ($125). The CNE certification costs $400 for NLN members and $500 for those who are not members.
Who Hires Nurse Educators in Arkansas?
Once you've qualified as a nurse educator, there are many ways you can use these new skills. The range includes but is not limited to:
Academic: A common career, you will work in a college or university teaching nursing students – undergraduate and postgraduate
Health: Clinics and hospitals are the most likely employer, educating trainees and newly qualified as well as providing continuing education
Private sector: You may work for agencies as independent training providers, as a consultant, private tutor, for corporate training, or hired for public education
Charities: Similarly, you could work for dedicated health charities at home or abroad, in public outreach or public awareness of specific health issues
List of Nurse Educator Degree Programs in Arkansas
Ready to find an online or campus-based nurse educator degree program in Arkansas? Explore our listings to find the perfect program that matches your academic goals and career aspirations.
Conway, AR
Fayetteville, AR
Jonesboro, AR
Little Rock, AR
Are we missing your school's program or need to update information listed? Please contact us so we can make the necessary changes.