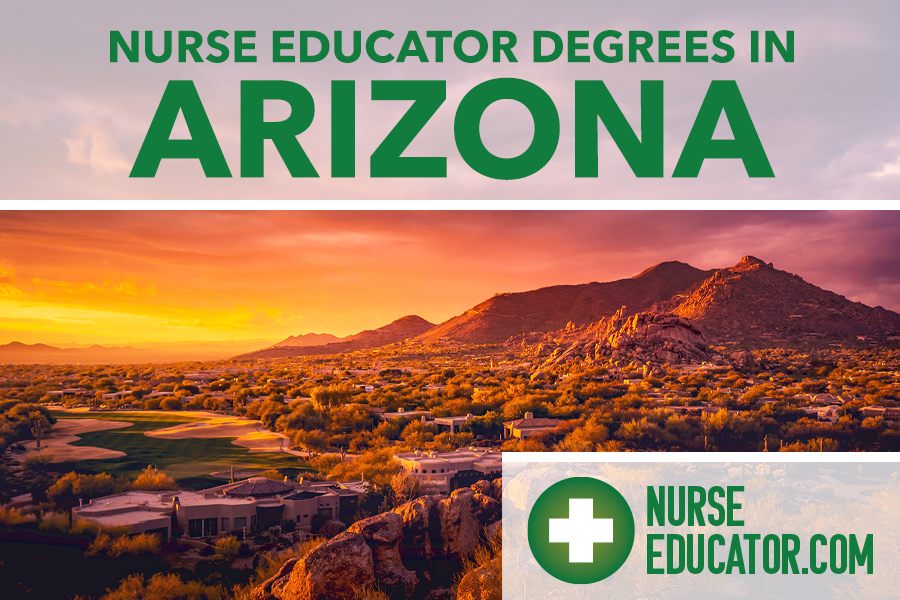 What Are the Online Nursing Education Prerequisites in Arizona?
To work as a nurse educator in Arizona, you need a nursing degree– a BSN or ADN are applicable, and have taken and passed the NCLEX-RN exam. After this, you are required to pass a relevant graduate study program – an MSN is the most common option. However, you can advance to a doctorate for better career options (PhD or DNP).
Some universities also offer online-specific Doctor of Education (EdD) for Nursing.
Online RN to MSN Nurse Educator Programs
There are several options to study an RN to MSN Nurse Educator program in Arizona. They cover ethics, education skills, healthcare concepts, research, and more. To enter such a program, you need the following prerequisites:
An ADN or Diploma in Nursing – which you have determines the length of study required
Minimum GPA of 2.5. Supply transcripts as proof
A relevant bachelor's degree in nursing and a current unencumbered registered nursing license
US citizenship or proof of a valid visa
Online Doctorate Nurse Educator Programs: DNP, Ph.D., or Ed.D.
There are three doctorate programs for nursing education to choose from. A Doctorate of Nursing Practice (DNP) for practicing doctors, a Doctorate of Nursing Philosophy (PhD) for doctors of research, and a Doctorate of Education (EdD) for those who wish to teach in the nursing field.
The admission requirements for applying to a doctorate program in nursing education are similar to the requirements for other nursing education programs, except that you will need to possess a master's degree before you begin.
The University of Arizona has a well-known PhD program in nursing worth looking into, as well as Arizona State University's DNP program.
Nurse Educator Licensing and Certification in Arizona
To practice as a nurse educator in Arizona, you will need a registered nursing license and a master's degree level qualification (which requires RN licensing as a prerequisite) or an education doctorate (EdD). Ideally, you should then pursue one of three certifications though these are not mandatory:
The standard CNE is for teaching nursing in an academic setting
Your second choice is clinical education. This is the CNEcl. You should have two years of experience as a minimum
The third choice is the CNEn for novices for those with under three years of experience
It is a requirement that you keep your registered nurse license up to date as specified by the Arizona state board. To maintain CNE certification, workshops, events, and continuing education are required.
RN license in Arizona is $150 for the application fee, $150 for the NCLEX-RN exam, $50 for a fingerprint check, and $160 for renewal (every four years). CNE cost is $400 for NLN members and $500 for non-members.
Who Hires Nurse Educators in Arizona?
What roles will you be eligible for once you've completed a relevant nurse educator program?
Academia: Our colleges and universities require academic teachers to lecture students and engage in research
Healthcare settings: For CNEcl certificates, you will provide the necessary continuing education and engage in professional outreach to clinical nurses
Private providers: Working for agencies, consultancies, or in public outreach from a private perspective, also drug screenings for employers
Charities: Working to spread information in public campaigns or to educate those who do
List of Nurse Educator Degree Programs in Arizona
Ready to find an online or campus-based nurse educator degree program in Arizona? Explore our listings to find the perfect program that matches your academic goals and career aspirations.
Phoenix, AZ
MSN ProgramsGraduate Certificate Programs
411 N Central Ave
Phoenix
,
AZ
85004
(480) 965-7788
DNP ProgramsGraduate Certificate ProgramsMSN Programs
3300 West Camelback Road
Phoenix
,
AZ
85017
(855) 428-5673
Tempe, AZ
Graduate Certificate ProgramsMSN Programs
1625 W. Fountainhead Pkwy
Tempe
,
AZ
85282
(866) 484-1831
Are we missing your school's program or need to update information listed? Please contact us so we can make the necessary changes.