Nurse Educator Schools in Alaska
Nurses considering a career as an educator will find options for both on-campus and online study. Alaska residents or those relocating for nursing education will find many ways to pursue this exciting next step on their career ladder.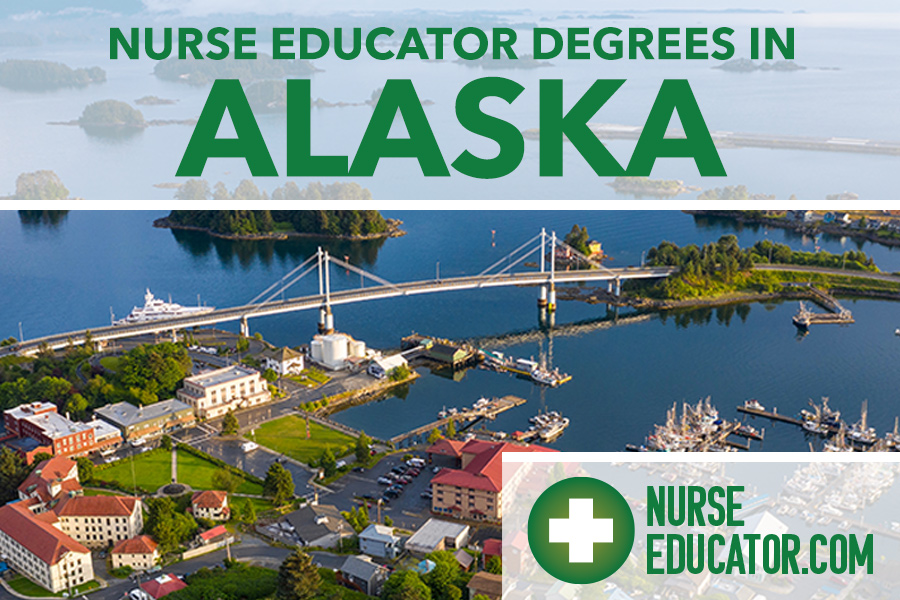 What Are the Online Nursing Education Prerequisites in Alaska?
To become a nurse educator in Alaska, you will need to become a registered nurse which you attain through a BSN (Bachelor of Science) degree, the NCLEX-RN, and then an MSN (Master of Science in Nursing). You may work as a nurse educator there or progress to a doctorate (PhD, EdD or DNP).
Online BSN to MSN Nurse Educator Programs
An online BSN to MSN nurse educator program is similar to a typical MSN program, and you'll likely be going through essentially the same curriculum in a shorter amount of time with fewer clinical hours.
To be admitted into the program, you'll need:
A BSN from an accredited program
A GPA of at least 3.0
An essay or letter to the program to which you are applying to
A current license to practice as an RN
Letters of reference
An in-person interview
One year of clinical
Online Doctorate Nurse Educator Programs: DNP, Ph.D., or Ed.D.
There are three doctorate programs for nursing education–a Doctor of Nursing Practice (DNP), a Doctor of Nursing Philosophy (PhD), and a Doctor of Education (EdD).
The DNP is typically for those who want to become practicing doctors, while the PhD is typically for research. The EdD is for those students who want to go on to teach, but these degrees are less common.
There are currently no online doctorate programs in Alaska for nurse educators, but there are many located in other states, such as the nursing PhD program at the University of Central Florida.
The admission requirements for entering a doctorate program in nursing education are similar to the requirements for other nursing education programs but you will be required to hold a higher degree (MSN).
Nurse Educator Licensing and Certification in Alaska
To become a liscensed nurse in Alaska, you'll need to attain an RN license after you complete a Bachelor's Degree of Science in nursing (any concentration is suitable), and move on to earning a relevant graduate degree such as an MSN. You may also progress to an EdD for improved career options
Take one of three available certificates:
The CNE (for academic education).
The CNEcl (for clinical education). You need a minimum of two years of practice experience before being eligible and usually a minimum of three years of education experience.
The third option (CNEn) is for novices with under three years of experience.
Maintain the requirements of your RN license as specified in the Alaska Board of Nursing's regulatory framework, and complete the specified number of contact hours and continuing education to maintain CNE status.
The cost of an RN license in Alaska is $100 for the application, $200 for the licensing, $100 for an optional temporary permit, and $75 for a fingerprint check. CNE costs are $400 for NLN members and $500 for non-members.
Who Hires Nurse Educators in Alaska?
There are plenty of career options for you as a nursing educator in Alaska:
Academic: The colleges and universities around Alaska are great places to work, teaching new nursing professionals. May include a research role
Clinical settings: Clinics and hospitals employ a large number of nursing educators who educate medical professionals on new practices and provide mandatory continuing education
Private service provider: This can be as an independent agency, consultant, or another provider of relevant private health services
Charity: Areas such as public health, government advisory, and service provision, that employ nurses that may need continuing education
List of Nurse Educator Degree Programs in Alaska
Ready to find an online or campus-based nurse educator degree program in Alaska? Explore our listings to find the perfect program that matches your academic goals and career aspirations.
Anchorage, AK
Graduate Certificate ProgramsMSN Programs
3211 Providence Drive
Anchorage
,
AK
99508
(907) 786-4406
Are we missing your school's program or need to update information listed? Please contact us so we can make the necessary changes.