Nurse Educator Schools in Alabama
Online nurse educator programs are a great option for online study and allow the flexibility to work at your own pace. Residents or those moving to Alabama looking to enter this career will find multiple options in the state, including the popular Spring Hill College online, which has multiple nursing education programs.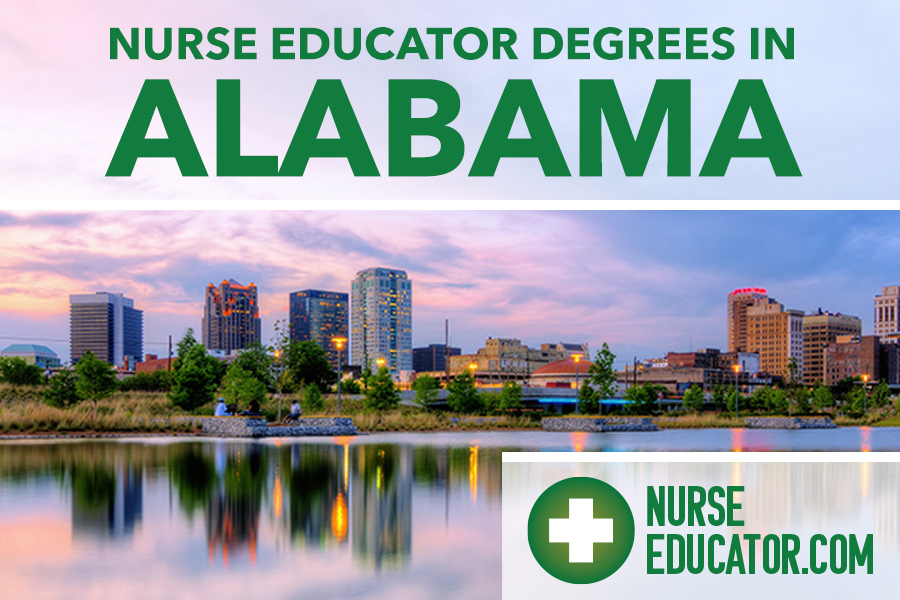 What Are the Online Nursing Education Prerequisites in Alabama?
Admission requirements for online nursing programs vary by state and by program but typically, you will need a current RN license, transcripts showing a 3.0 average, and a completed application to the school to which you are applying.
Online BSN to MSN Nurse Educator Programs
BSN graduates have several opportunities for education in Alabama; all options are currently online. Students will study the theory and practice of nursing education, and also ethics, curriculum, and teaching methods. Eligibility requirements are:
An accredited BS
Minimum cumulative GPA of between 2.5 and 3.0 on a 4.0 scale; send transcripts
An unencumbered RN license. NCLEX-RN score may be requested
CPR certification
Nurse Educator Licensing and Certification in Alabama
To gain a license as a registered nurse, you must earn a bachelor of science in nursing. After becoming an RN, you'll need to further your studies with a relevant graduate degree such as an MSN or EdD to become a certified educator with one of many following nursing program options:
A CNE is designed for academic nursing teaching
A CNEcl (clinical education): This and the CNE require a minimum of two years of practice experience and three years of education experience
The CNE for novices (CNEn) is for those with less than three years of experience
You must maintain state requirements of your RN license as specified by the state, and CNE's requirements for workshops and continuing education.
The price of an RN license in Alabama is $100 for the application, $200 for the exam, $50 for a temporary permit, and a $100 renewal fee. A CNE costs $400 for NLN members and $500 for non-members.
Online Doctorate Nurse Educator Programs: DNP, Ph.D., or Ed.D.
The admission requirements for entering a doctorate program in nursing education are similar to the requirements for other nursing education programs but you will be required to hold a higher degree (MSN).
There are three doctorate programs for nursing education. The first is a Doctor of Nursing Practice (DNP), which is a degree reserved for practicing doctors. There are a few DNP programs available online, including at the University of South Alabama.
The second is a Doctor of Nursing Philosophy (PhD). This degree is typically for those working toward a career in nursing research. The University of Alabama offers a great program for this specific degree.
Some universities in some states offer online Doctor of Education (EdD) for nurse educators. The University of Alabama is one such institution.
Who Hires Nurse Educators in Alabama?
There are multiple routes to becoming a nursing educator:
Academia: working at colleges and universities in a research and education setting teaching the next generation of nursing professionals
Hospitals and clinics: you would work in clinical settings training those who already work in a nursing profession
Private sector: This covers a wide range of jobs which may include consultancy, public outreach, patient awareness, and drug screenings for employers
Charity sector: Public outreach and public health not tied to government or the private sector, educating both clinical practitioners and the public
List of Nurse Educator Degree Programs in Alabama
Ready to find an online or campus-based nurse educator degree program in Alabama? Explore our listings to find the perfect program that matches your academic goals and career aspirations.
Florence, AL
Huntsville, AL
Mobile, AL
Montgomery, AL
Tuscaloosa, AL
Are we missing your school's program or need to update information listed? Please contact us so we can make the necessary changes.